North Carolina Climate Justice Collective
Organizing for A Just Florence Recovery
About North Carolina Climate Justice Collective
The NC Climate Justice Collective is a multi-racial, intergenerational movement ecosystem dedicated to strengthening those communities who are first and worst impacted by climate and environmental harms. We center our work in the leadership of youth, indigenous peoples, people of color, women, and LGBTQI+ people to create strategic alignment: we are bringing an end to fracked gas pipelines, coal ash pollution, biogas from factory farms and biomass from forest destruction. Using popular education and cultural organizing, we address the root causes of climate change and plant the seeds of a life-sustaining, regenerative society.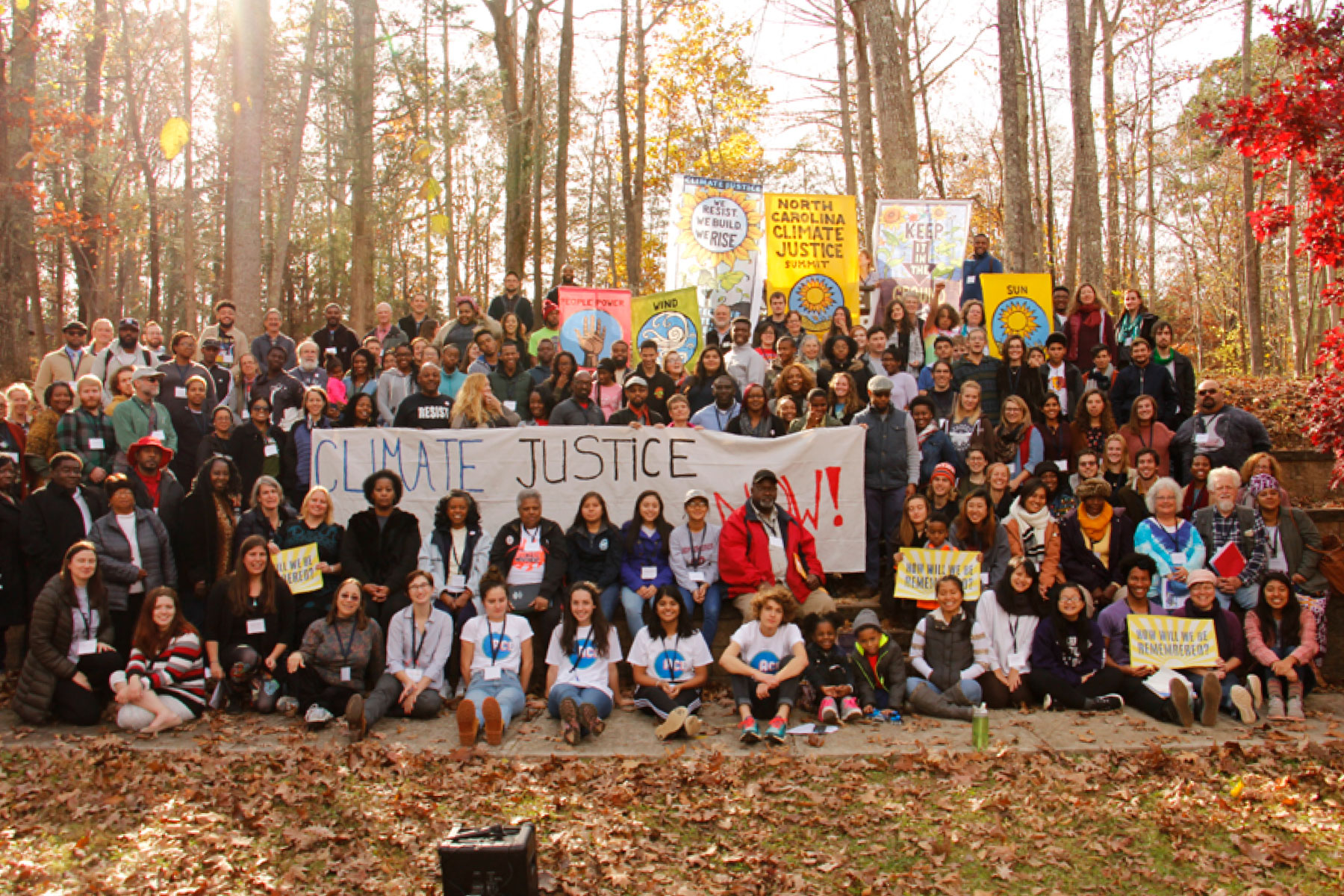 We combine our strengths of head, hand and heart toward creating a vibrant future for all!  
Our cultural strategy weaves together the 4 Rs of social transformation—Reform, Resist, Re-imagine and Re-Create. The Good Fire show, which we wrote, produced and performed throughout eastern NC this spring, is a good example of how we engage all 4 Rs. The Good Fire is an allegory for renewable energy and community resilience. By combining spoken word, large portable murals, indigenous music and giant puppets, we engaged our communities in envisioning a just energy future, discussed how to reform the broken energy system we have now, learned about new models for distributed solar, and built resistance to the monopoly utility.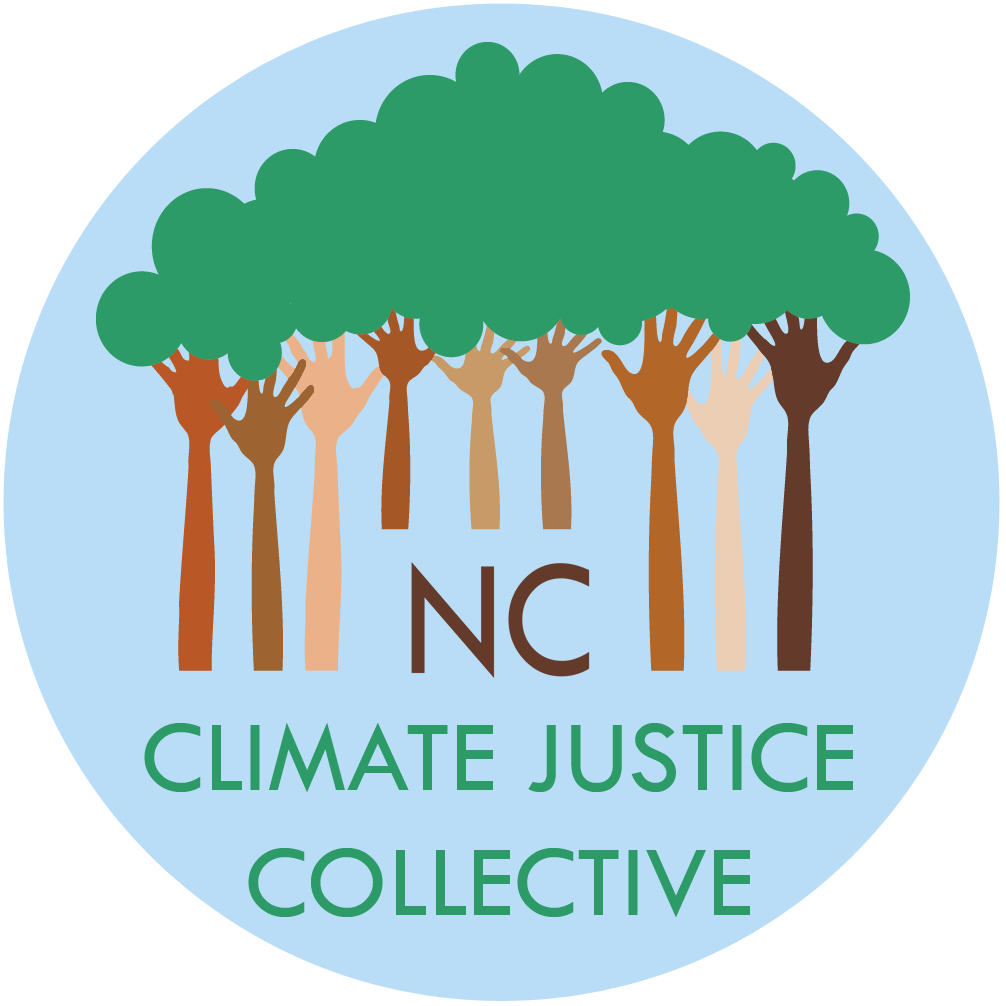 Hurricane Florence Statement
In 2016, Hurricane Matthew caused massive damages and flooding in the eastern part of our state, displacing many families–our first self-described climate refugees–and further polluting the communities where toxic coal ash and hog waste overflowed their meager enclosures.
In 2017, Hurricanes Harvey and Maria devastated communities elsewhere, but we felt their pain and understood the injustice at the root of these vicious storms.
These are not natural disasters, they are the logical outcome of a society that believes some people and some places are expendable. They are the product of a broken political and economic system–an industrial growth society that has given rise to climate chaos and unspeakable suffering.
As we continue to deal with the aftermath of more unprecedented storms–Hurricanes Florence and Michael–that have ravaged our own region, we struggle to ensure that those who are always first and worst impacted are not forsaken. We know that only a Just Transition to a clean energy economy can turn the tides of destruction and source thriving, equitable, earth-honoring, joyfully inclusive communities. Until we achieve that, the next unnatural storm will always be bearing down on us.
Read our full analysis, "A Just Recovery is the Only Way Forward in North Carolina."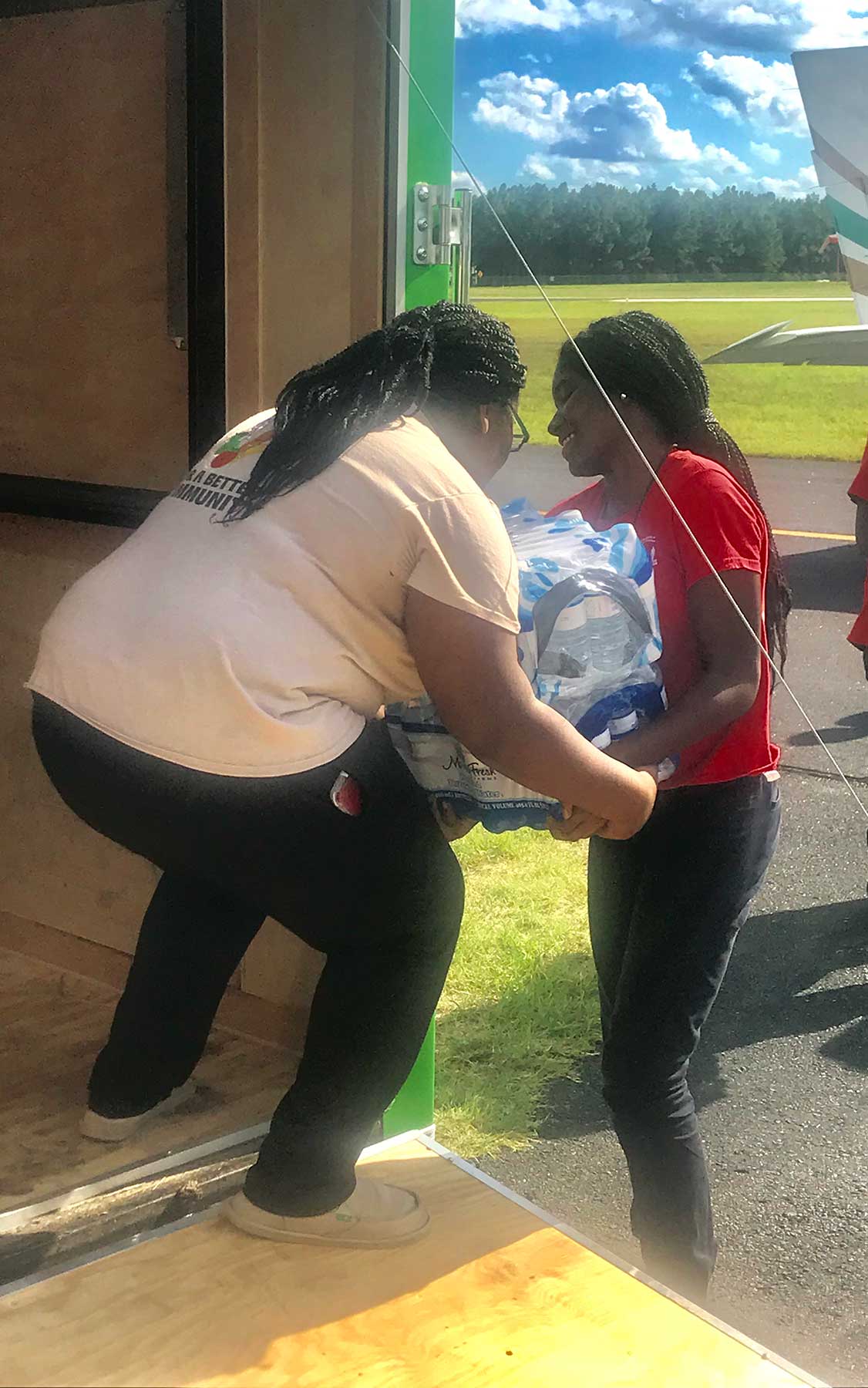 Make a Donation
Directly donate to the North Carolina Climate Justice Collective to support their work on the ground with their frontline community members in eastern NC. Donate today!
Checks can be sent to:
NC WARN PO Box 61051 Durham, NC 27715
Write "NC Climate Justice Collective" or "NCCJC" in the memo line.
*NC WARN is the fiscal sponsor for NCCJC and is a 501c3 organization. All donations are tax-deductible and you will receive recognition of your gift from NC WARN noting our tax ID.
Spread the Word
To get the most up to date information on what we are doing in North Carolina and how you can help, check us out on social media and share our most recent appeals and posts on facebook (@ncclimatejustice) and twitter (@NCClim8Justice).
Support Just Recovery Efforts
We ask that you support a Just Recovery from Hurricane Florence by connecting to frontline organizations working in NC at the intersection of economic, racial and ecological justice. Go to justflorencerecovery.org to learn more.
"The floodwaters are receding, but the toxins they spread far and wide—coal ash, hog manure, chemical pesticides, Gen X—pose long-term threats to community health and safety. Our efforts are focusing on immediate cleanup and permanent solutions for eastern NC, so that low-income areas and communities of color do not continue to be treated as sacrifice zones."
– Connie Leeper, Co-Convener, NC Climate Justice Collective
Support the Alliance
Help us direct money and resources
to frontline communities
Grow With Us
Be part of the community by signing
up to our mailing list