Assembly & Training in Detroit, November 8-12, 2018
Introduction
The East Michigan Environmental Action Council (EMEAC) and the Climate Justice Alliance teamed up for the Black 2 Just Transition Assembly & Training, that brought together 60+ organizers from November 8-12, 2018 in Detroit. For decades, Detroit has been home to some of the worst environmental injustices in the U.S., while also being a historic hub for visionary, black liberation struggles and organized resistance. Together, we examined systemic change pathways away from destructive industries towards models that center the health, well-being and self-determination of communities.
Our trainings centered the lessons, principles & practices of Black Liberation, Indigenous sovereignty, healing, environmental justice and other allied struggles for decolonization.
Assembly and Training Goals
Convene up to 60 allied community organizers from around the US
Establish a Just Transition political education hub for black and POC organizers in the Midwest that focuses on the intersections of environmental justice, climate change, black liberation and solidarity economies.
Create an intergenerational, organizing space for black youth leadership development that brings together youth, adults, and a council of elders to build relationships, political alignment and strategy
Develop organizing models that allow us to have strategic conversations on black liberation, black and brown mutuality and solidarity, and community self-determination, in ways that "de-silo" our issues.
Provide space for Healing Justice and Participant Care throughout the convening
Provide co-learning, creative space for African American, Latinx, Indigenous, Asian-Pacific Islander & Arabic people to share our cultures
Read and share the article Black Communities Must Be at the Center of the Environmental Movement.
Black 2 Just Transition Video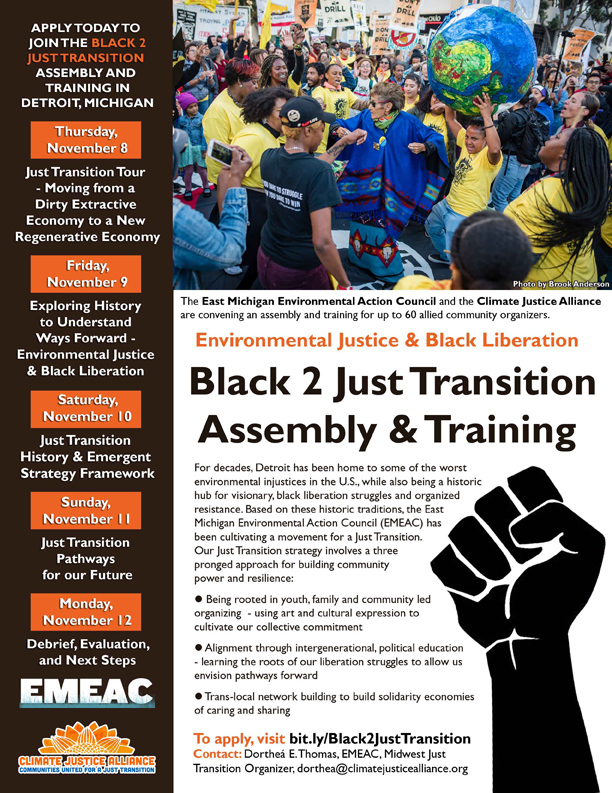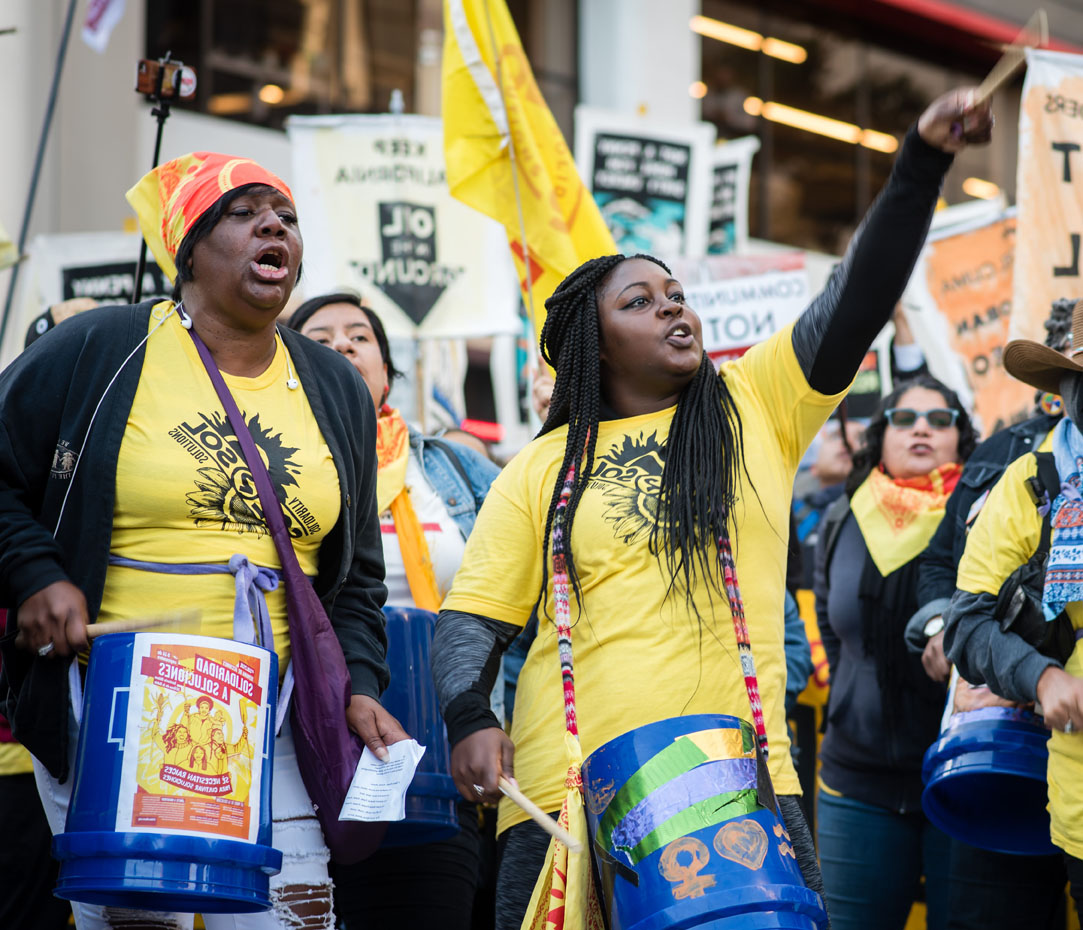 Assembly and Training Schedule
Thursday, November 8
Just Transition Tour – Moving from a Dirty Extractive Economy to a New Regenerative Economy
Friday, November 9
Exploring History to Understand Ways Forward – Environmental Justice & Black Liberation
Saturday, November 10
Just Transition History & Emergent Strategy Framework
7pm Fundraising event to Free Siwatu
Sunday, November 11
Just Transition Pathways for our Future
Monday, November 12
Debrief, Evaluation, and Next Steps
Join Black 2 Just Transition
Participants
Apply today to be one of the 60+ organizers.
Social Media
Spread the word about the assembly and training on Facebook.
Need more info?
Contact Dortheá E. Thomas, EMEAC, Midwest Just Transition Organizer at dorthea@climatejusticealliance.org
Free Siwatu
Fundraiser on Nov. 10 at 7pm at Cass Corridor Commons, to support Siwatu and her family.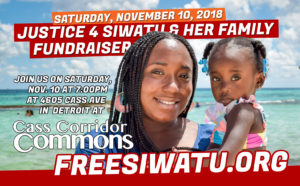 Support the Alliance
Help us direct money and resources
to frontline communities
Grow With Us
Be part of the community by signing
up to our mailing list