Our Steering Committee
The Steering Committee provides political leadership and assures that the alliance stays on strategic course toward climate justice.
Elizabeth Yeampierre
Steering Committee Co-Chair
Elizabeth C. Yeampierre is a nationally recognized Puerto Rican attorney and environmental justice leader of African and Indigenous ancestry born and raised in New York City. She is Executive Director of UPROSE, Brooklyn's oldest Latino community-based organization. Her award winning vision for an inter-generational, multi-cultural and community-led organization is the driving force behind UPROSE. She is a long-time advocate and trailblazer for community organizing around just, sustainable development, environmental justice and community-led climate adaptation and community resiliency in Sunset Park. Prior to assuming the Executive Director position at UPROSE, Ms. Yeampierre was the Director of Legal Education and Training at the Puerto Rican Legal Defense Fund, Director of Legal Services for the American Indian Law Alliance and Dean of Puerto Rican Student Affairs at Yale University.  She holds a BA from Fordham University and a law degree from Northeastern University. Elizabeth is the first Latina Chair of the US EPA National Environmental Justice Advisory Council.
Executive Director, UPROSE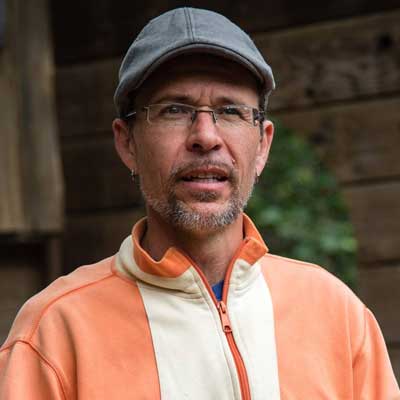 Mateo Nube
Steering Committee Co-Chair
Mateo was born and grew up in La Paz, Bolivia. Since moving to the San Francisco Bay Area, he has worked in the labor, environmental justice and international solidarity movements. He has spent the last decade integrating concepts of popular education into his movement work. Mateo is one of the co-founders of the Movement Generation Justice & Ecology Project. Prior to joining MG, Mateo designed and facilitated political education trainings and conducted staff development workshops for grassroots and community organizations interested in growing their organizing, advocacy, and leadership capacities. He served as the director of Urban Habitat's Leadership Institute and served as the Northwest Coordinator of the AFL-CIO Organizing Institute. Mateo is the son of Barbara, partner of Amanda, and fortunate father of Maya and Nilo. He is also a member of the Latin rock band Los Nadies.
Co-Director, Movement Generation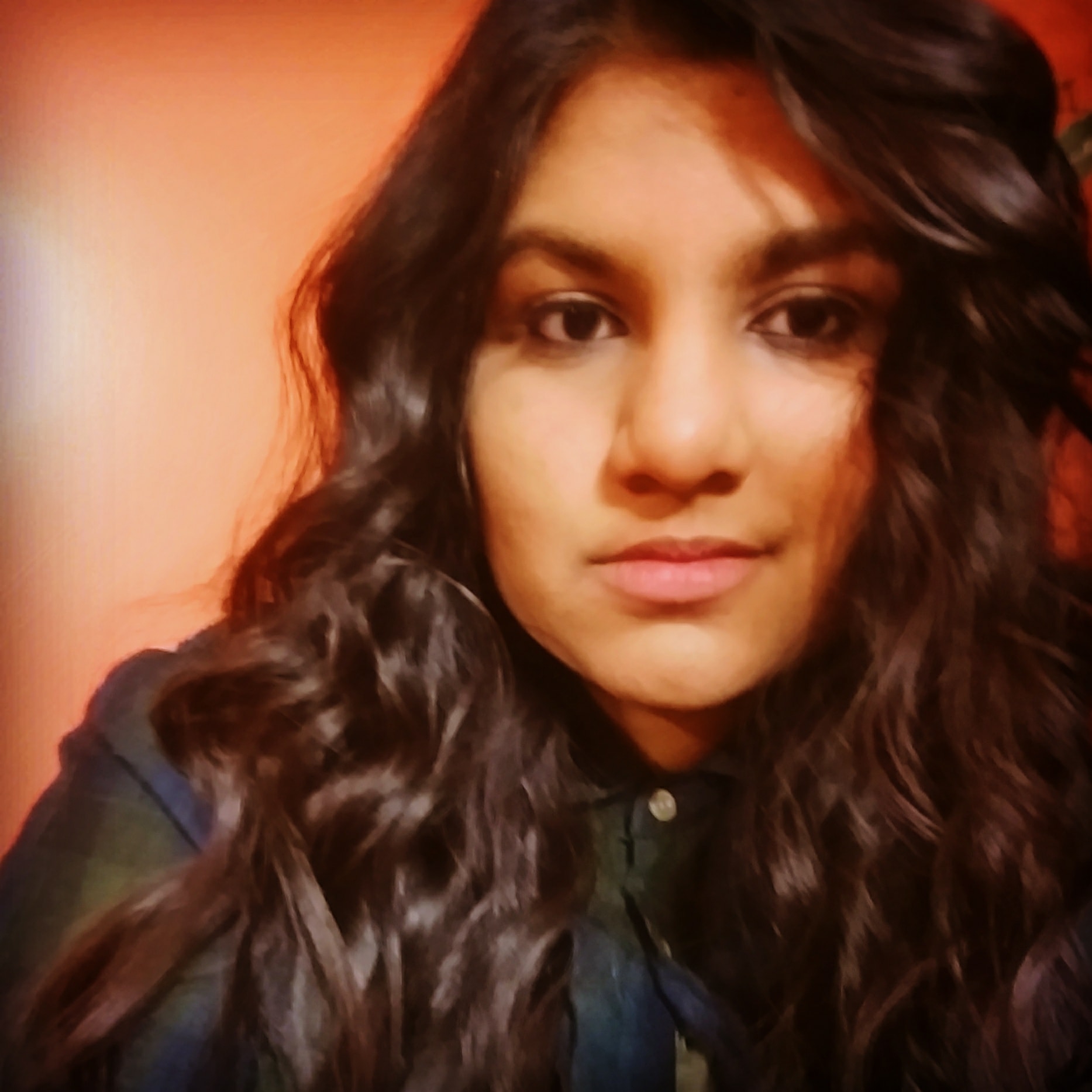 Aghilah Nadaraj
Equity Fellow, Kheprw Institute
Aghilah is an Equity Fellow and grant writer with the Kheprw Institute. As a graduate of Indiana University in International Studies, she is passionate about social justice and equity, especially within the global context. Working with Kheprw, she has facilitated community discussions, written grants to support the organization's work, and now is working with other youth within the Climate Justice Alliance to establish a Youth Collective that brings in the perspective of youth within the broader climate justice movement.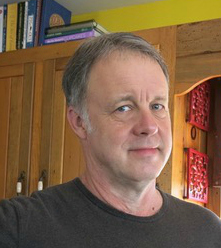 Burt Lauderdale
Executive Director, Kentuckians for the Commonwealth
Burt is the Executive Director of Kentuckians for the Commonwealth.  He is a graduate of Auburn University and has been with KFTC since 1983.  His responsibilities include leadership identification and development, campaign development, organizer training, strategy development and fundraising.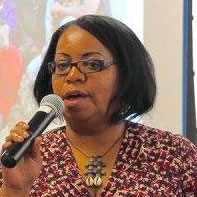 Denise Abdul-Rahman
Environmental Justice Chair, Indiana NAACP
Denise's main passion everyday is working toward a vision that eliminates environmental injustice, increases clean energy, healthy, thriving, climate resistant and sustainable communities. She holds a BS in management, MBA in healthcare management and a health informatics designation from Indiana University School of Informatics. Denise successfully organized over 85 attendees from across the Midwest to the United States Environmental Protection Agency at Region V.   In February 2016, Indianapolis Power Light stopped burning coal. She organized the Just Energy Campaign, and called for a retirement date by 2016, and won. The advocacy of the Just Energy Campaign was instrumental and crucial in the defeat of House Bill 1320, there are no fees charged to distributed generation of energy in Indiana. This victory rose to national coverage within LA Times and Bloomberg News. Denise has personally accepted three awards in recognition for this body of work.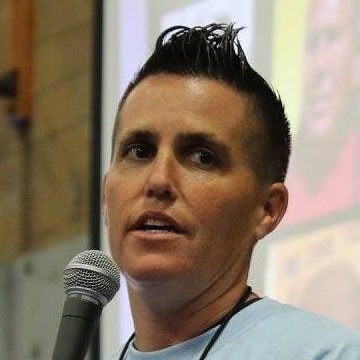 Jaron Browne
National Organizer, Grassroots Global Justice Alliance
Jaron Browne is the Grassroots Global Justice Alliance (GGJ) National Organizer for Global Well Being programs, building out GGJ's Just Transition, climate justice and anti-militarism campaigns, including support for CJA's Our Power Campaign, and other national and international climate justice and new economy campaigns.  Jaron coordinated the It Takes Roots delegations to the UNFCCC COP21 in Paris, COP22 in Marrakesh, COP24 in Katowice, and was a co-author of the report We Are Mother Earth's Red Line, analyzing the impact of Paris Climate Agreement.  In 2016, Jaron worked with GGJ member organizations to coordinate a series of Just Transition Assemblies in Detroit, Vermont, Seattle and Rhode Island.  Before joining GGJ, Jaron was an organizer with POWER and Causa Justa::Just Cause for nearly 13 years, building the power of working class Black and Latino families in the Bay Area.   Jaron was trained as an organizer with the Bus Riders Union in Los Angeles at the Labor/Community Strategy Center in 2001.   Jaron has also been active in the movement to end mass incarceration, as well as LGBT social movements in the US.  Jaron is located in Oakland, CA.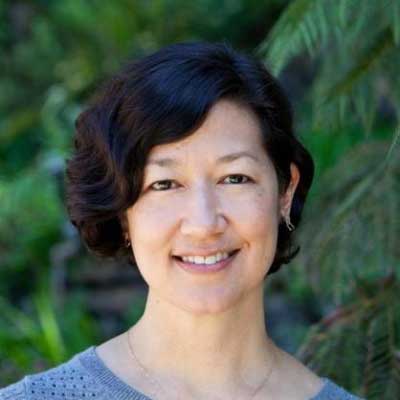 Miya Yoshitani
Executive Director, Asian Pacific Environmental Network
Miya has an extensive background in community organizing, campaign strategy, leadership development and training, organizational development, and fundraising, and a long history of working in the environmental justice movement. In her twenties she was the executive director of the largest student environmental network in the US, the Student Environmental Action Coalition (SEAC) and worked broadly in international environment and development networks organizing for environmental and economic justice. Miya was a participant in the First National People of Color Environmental Leadership Summit in 1991, and was on the drafting committee of the original Principles of Environmental Justice, a defining document for the environmental justice movement. Miya first joined the APEN staff in the mid-90's as a youth organizer, and has served as lead organizer, development director and spearheaded APEN's strategic planning. APEN has been fighting – and winning – environmental justice struggles for the past 18 years and remains one of the most unique organizations in the country explicitly developing the leadership and power of low-income Asian American immigrant and refugee communities. APEN has been a trailblazer in bringing the voices of APA communities to the forefront of environmental health and social justice fights in the Bay Area, winning real policy solutions for the community across a gamut of issues including occupational safety of high-tech workers, affordable housing, transportation and land-use, and challenging multinational corporations to mitigate pollution that is devastating the health and well-being of countless low-income communities of color.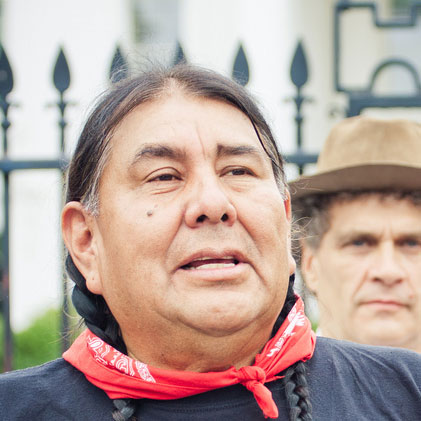 Tom Goldtooth
Executive Director, Indigenous Environmental Network
Tom is Diné and Dakota and lives in Minnesota. Since the late 1980's, Tom has been involved with environmental related issues and programs working within tribal governments in developing Indigenous-based environmental protection infrastructures. Tom works with Indigenous peoples worldwide. Tom is known as one of the environmental justice movement grassroots leaders in North America addressing toxics and health, mining, energy, climate, water, globalization, sustainable development and Indigenous rights issues. Tom is one of the founders of the Durban Group for Climate Justice; co-founder of Climate Justice NOW!; co-founder of the U.S. based Environmental Justice Climate Change Initiative and a member of the International Indigenous Peoples Forum on Climate Change that operates as the Indigenous caucus within the United Nations Framework Convention on Climate Change. Tom is a policy adviser to Indigenous communities on environmental protection and more recently on climate policy focusing on mitigation, adaptation and concerns of false solutions.
Support the Alliance
Help us direct money and resources
to frontline communities
Grow With Us
Be part of the community by signing
up to our mailing list