Just Transition Strategies in Place
Our Power Campaign
The first Our Power gathering happened in 2013, hosted by the Black Mesa Water Coalition in the Black Mesa region of Arizona. The campaign brings together frontline communities and allies to coordinate community-led action strategies that advance an Ecologically Resilient and Economically Just Transition out of destructive development into new economic solutions based on healthy work that serves our communities, heals the planet, and preserves our cultures.
Currently, with thirty-four active Our Power Communities, our goal is to create living examples of how communities can put people to work transforming their localities, while reducing both cost and pollution burden for present and future generations. These local living economic models are being built through Just Transition. Our Power Communities (OPC's) bring together the different sectors of a community to fight the bad and build the new.
Visit Our Power Communities in your region:
For more information and how you can become involved or apply to become an Our Power Community contact monica@climatejusticealliance.org
Current Work
 During the OPC Virtual Gathering in July 2020, thirty-four active Our Power Communities came together and elected regional conveners and charted a pathway forward for the coming period. Current organizing will prioritize local power building with movement support organizations, working groups and alliances to anchor a Just Transition in their communities. Part of this process will also be to establish regional infrastructure within the alliance, which will be led and coordinated by our frontline, base-building members. The OPCs will work together to create plans that include coordinated and aligned organizing, communications, direct action and policy advocacy strategies within their regions and CJA.
Our Power Communities Summit 2022

In October 2022, the Southwest Workers Union, hosted the Our Power Communities Summit in San Antonio, Texas. The purpose of the summit was to re-ground in the Our Power Communities political leadership in CJA, sharpen our political analysis around false solutions, and develop our strategy for regional and collective action.
CJA Worktrack Description
We will build a "local living economy" model that has multiple entry points for tipping the economic systems in the people and planet's favor while centering Just Transition plans on:
Zero Waste
Regional Food Systems
Public Transportation
Clean Community Energy
Efficient, Affordable, and Durable Housing
Ecosystem Restoration and Stewardship
Our Power Communities
From 2013 – 2016, CJA piloted seven Our Power Communities (OPC's) which have grown since then to thirty-five! Our objective is to build the leadership of the OPCs to establish regional hubs, provide training to members, and lead the national conversation on Just Transition. 
Since 2016, when CJA's full membership adopted a four-year strategy to expand the Our Power Communities from the foundation laid by the seven pilot sites, OPC's have been tirelessly working in their regions to make Just Transition real on the ground. A key objective is to join forces with self-identified grassroots communities building local, regional and statewide Regenerative Economies.
The First Our Power Communities
APEN and CBE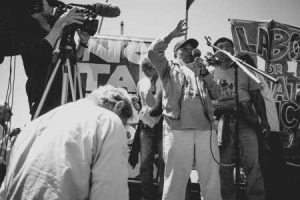 Richmond is a working class, and predominantly people of color community impacted by decades of environmental blight and economic divestment. It is home to a 3,000 acre Chevron Oil Refinery – the largest stationary greenhouse gas emitter in the State of California. The effects of this facility are compounded by cumulative health impacts causing kids to have higher asthma rates in the region. Richmond also suffers high rates of unemployment and home foreclosures. In the midst of these challenges, we are building strength to exploit some key opportunities.
Asian Pacific Environmental Network (APEN) and Communities for a Better Environment (CBE) are anchoring the Our Power work in Richmond, CA. Their work currently centers around stopping extreme energy in the form of the refinery and making Richmond a solar city.
Learn more about APEN's work and how to get involved.
Black Mesa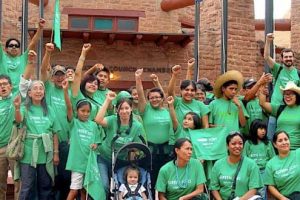 Black Mesa is significant to the Navajo people for a number of reasons. Four sacred mountains located in Arizona, New Mexico, and Colorado surround the traditional homeland of the Navajo people. Black Mesa is also home to two coal mines operated by Peabody Coal Company: the Black Mesa Mine (closed in 2006) and the Kayenta Mine. The Black Mesa Solar Project is a holistic approach to energy development that takes into consideration community participation and benefits, job training and environmental impact. The long-term vision of the project is to establish a solar manufacturing facility and a series of 20MW to 200MW solar photovoltaic installations on the abandoned mine land of Black Mesa.
Since it started in 2005, BMWC serves as a model for how other communities dealing with extreme energy can fight to shut down polluting facilities AND put in place clean, community controlled sources of energy and green economy jobs that build off of the strengths of the local people, culture, and land.
Cooperation Jackson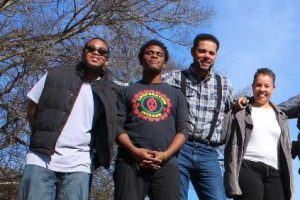 Cooperation Jackson is the realization of a Just Transition vision decades in the making. Its roots lay deep within the struggle for democratic rights, economic justice, self-determination, particularly for people of African descent in the Deep South, and dignity for all workers.
Cooperation Jackson is now developing 3 cooperatives that are set to open within the next 3 months to a year. These include Freedom Farms, an urban farming cooperative; Nubia's Place Café and Catering Cooperative; and, Mississippi Waste Alternative, a recycling and composting cooperative. These 3 cooperatives serve as the 1st class of the integrated and interrelated cooperative ecosystem we are working to create to transform Jackson's economy.
Learn more about Cooperation Jackson's work and how to get involved
East Michigan Environmental Action Council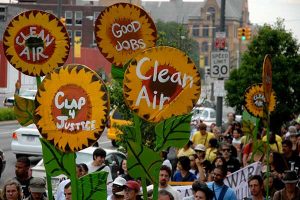 In Detroit, you can find some of the country's worst polluters, several Superfund sites, and one of the nation's highest rates of asthma among children. At the same time, Detroit is the site of an inspiring grassroots urban renewal including a Zero Waste Coalition, recycling programs, and a growing food sovereignty movement, and a vibrant youth movement. The East Michigan Environmental Action Council is the anchor for the local alliance that is pulling various strands of work together into a unified local-to-regional expression of the Our Power Campaign. EMEAC is committed to deepening its role in helping to build community resilience to climate change, while exposing the causes of extreme energy and the false solutions proposed by its industrial and corporate emitters.
Kentuckians for the Commonwealth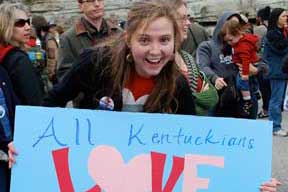 Coal holds a tight grip on the economy of eastern Kentucky. The industry has drained millions from communities, while polluting their natural resources and mistreating workers. In response to this extraction and abuse, Kentuckians for the Commonwealth formed to lead Kentucky in a transition away from an economy dominated by coal, anchoring the work of the Our Power Campaign throughout the Bluegrass State.
For more than 30 years, Kentuckians for the Commonwealth has been organizing in Kentucky to achieve voter rights, economic justice, and a transition away from the state's extractive energy and economy. Some of their key campaigns include:
– Combating mountaintop removal in the Appalachia
– Pushing for comprehensive tax reform that is fair and benefits all Kentuckians
– Restoring the right to vote back to Kentuckians who have served time for a felony
PODER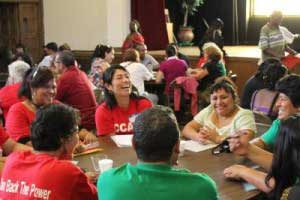 PODER's mission is to organize with Latino immigrant families and youth to put into practice people-powered solutions that are locally based, community led and environmentally just. We nurture everyday people's leadership, regenerate culture, and build community power. We organize in San Francisco's Mission, Excelsior and other southeast neighborhoods, & forge alliances to achieve transformational change.
Southwest Workers Union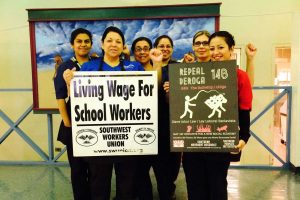 The low-income communities of San Antonio face many issues related to labor and the environment. High security has criminalized migrant populations in the south, while trade policies have promoted the exchange of capital at the expense of workers and the environment. Corporate interests place hazardous waste sites and polluting facilities disproportionately in low income communities of color. SWU has developed strong organizing around all of these issues. SWU works with frontline communities in the U.S. and Mexico to advocate for migrant rights. They have organized against toxic military facilities, such as the Kelly Air Force Base, and successfully defeated other environmentally damaging industries. These are just a few of the challenges SWU has taken on throughout the years.
Act on Our Power Communities
For more information about getting involved, contact Monica Atkins at monica@climatejusticealliance.org
Participating CJA Members