at Climate Justice Alliance
Work with Climate Justice Alliance
Our translocal organizing strategy and mobilizing capacity is building a Just Transition away from extractive systems of production, consumption and political oppression, and towards resilient, regenerative and equitable economies.
In order to create solutions and continue the work we do, we need a talented and diverse staff. Review our current job opportunities below and apply to work with an alliance that brings together urban and rural frontline communities, organizations and supporting networks in the climate justice movement.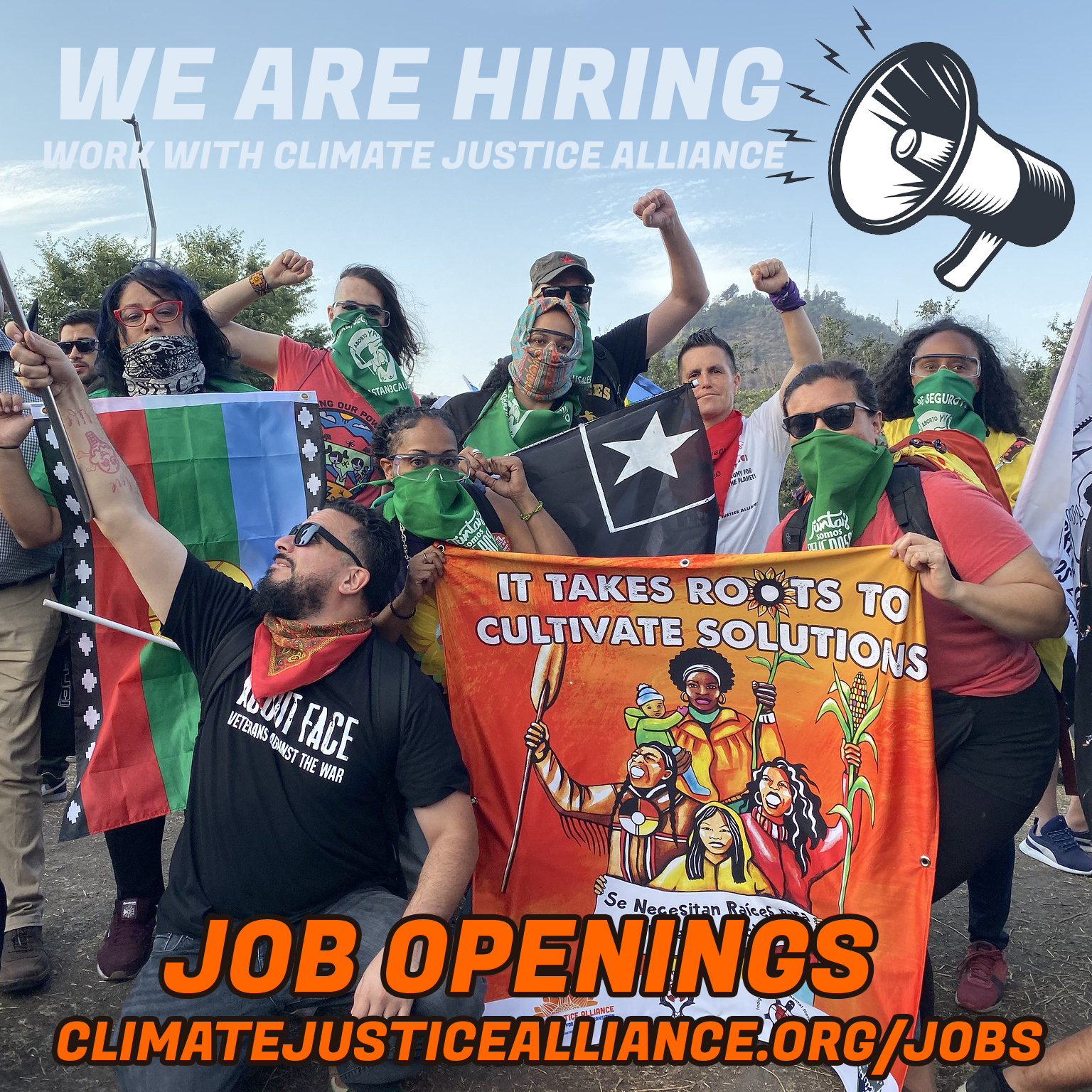 Application Deadline: October 2, 2022
The CJA Reinvest Project Director is a visionary and organized systems thinker, focused on solutions and strategies for moving capital out of the extractive economy and circulating it to build frontline community-led regenerative economies. They are responsible for coordinating the implementation of the Reinvest in Our Power Campaign & CJA Our Power Loan Fund strategy as they fit within the overall CJA strategy plan.
Click here for more information and to apply.
---
Application Deadline: October 21, 2022
Climate Justice Alliance is seeking a dynamic Resource Mobilization Co-Director to join our members in challenging the extractive history and structure of philanthropy in order to build a Just Transition and invest in living, local, resilient economies. We are living in an exciting moment where there is a lot of momentum to resource frontlines and their solutions – we need someone to leverage this movement while also partnering with our members to ensure that funding doesn't continue to go to techno-fixes and market schemes. 
Click here for more information and to apply.
---
Application Deadline: October 7th, 2022
The Accounting Coordinator is responsible for managing efficient, transparent, and clear financial systems and processes for Climate Justice Alliance that align with our values as a member-led organization and support the successful implementation of our strategic plan. The Accounting Coordinator will work as part of the Radical Operations team, and will report to the Finance Manager.
Click here for more information and to apply.
---
Application Deadline: October 7th, 2022
For the last few years, CJA has been developing our regional organizing model to facilitate member-to-member learning, support and campaign planning across our communities. In 2020, we organized elections for our membership to democratically appoint Regional Conveners to anchor CJA work in each of our nine regions, which are currently defined as the Pacific Northwest, West, Midwest, South x Southwest, Southeast, Mid-Atlantic, Northeast, Pacific, and Indigenous/Tribal Communities. We are looking to develop deeper support for the regions and will be bringing on up to 3 Regional Organizers to work with the elected regional conveners. Our regional organizers will work with at least three of the CJA Conveners and their regions to foster relationships, plan campaigns, host training sessions and build power across the regions towards a Just Transition.  The Regional Organizer is responsible for supporting the development of regional organizing infrastructure, as well as the systems, operations, and day-to-day activities of CJA and its campaigns. The Regional Organizer will work as part of the Eco-Political  team, and will report to the Organizing Director.