Climate Justice in Black and Brown Communities
National Conversation in Portland
on WEDNESDAY, FEBRUARY 19, 2020

In the past, and to some extent still now, when people think of environmentalism, they often think of saving the whales or hugging trees! When folks think about climate change, what often comes to mind are melting ice caps and suffering polar bears. Historically, American society has failed to make the connection in terms of the direct impact of environmental injustices, including climate change, on our own lives, families, and communities, all of whom depend on the physical environment and its bounty.
Environmental injustice is about people in Detroit, Ohio, Chicago, Memphis, Kansas City, and elsewhere who have died and others who are chronically ill due to exposure to toxins from coal fired power plants and other toxic facilities.
Climate change is about the increase in the severity of storms which means that storms like Sandy and Isaac, which devastated communities from Boston to Biloxi, will become more of the norm. our sisters and brothers in the Bahamas, as well as Inuit communities in Kivalina, Alaska, and communities in Thibodaux, Louisiana and beyond, who will be losing their homes to rising sea levels in the coming few years.
Climate change and environmental injustice are about sisters and brothers from West Virginia to Tennessee who are breathing toxic ash from blasting for mountain top removal.
Environmental injustice and climate change are about the fact that in many communities it is far easier to find a bag of Cheetos than a carton of strawberries and this only stands to get worse as drought and flooding impact the availability and affordability of nutritious food.
This conversation worked at addressing the many practices that are harming communities nationwide and the policies needed to rectify these impacts and advance a society that fosters sustainable, cooperative, regenerative communities that uphold all rights for all people in harmony with the earth.​
Portland NAACP teamed up with OPAL Environmental Justice Oregon and Climate Justice Alliance for a conversation about Climate Justice in Black and Brown Communities.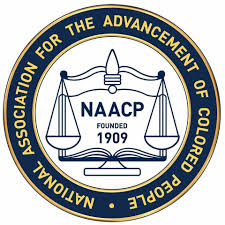 The Portland NAACP is a chapter of the National Association for the Advancement of Colored People, whose mission is to secure the political, educational, social, and economic equality of rights in order to eliminate race-based discrimination and ensure the health and well-being of all persons.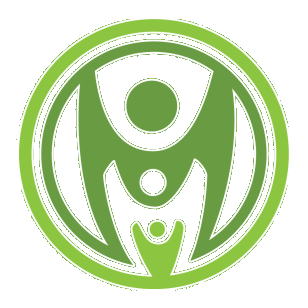 OPAL Environmental Justice Oregon is a community organizing and advocacy organization working with low-income and communities of color to educate, engage & empower. OPAL addresses the disparate oppression of pollution and social injustice.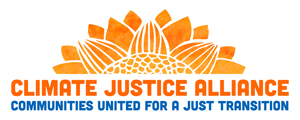 Climate Justice Alliance is a growing member alliance of 70 urban and rural frontline communities, organizations and supporting networks in the climate justice movement. We are locally, tribally, and regionally-based racial and economic justice organizations of Indigenous Peoples, African American, Latinx, Asian Pacific Islander, and poor white communities who share legacies of racial and economic oppression and social justice organizing.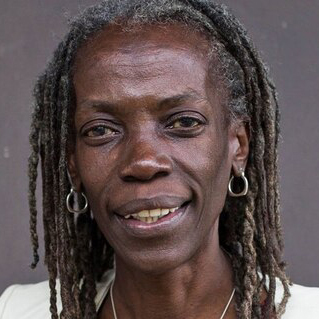 Jo Ann Hardesty
Moderator, Portland City Commissioner and former president of the Portland NAACP
Jo Ann A. Hardesty is an American Democratic politician in the U.S. state of Oregon who is currently a Portland City Commissioner, having taken office on the Portland City Council in January 2019. She previously served in the Oregon House of Representatives from 1995 until 2001.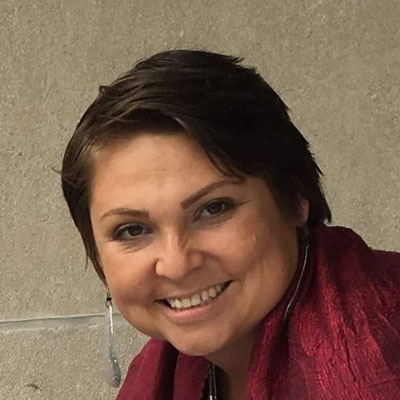 Angela Mahecha Adrar
Executive Director, Climate Justice Alliance (CJA)
Angela Mahecha Adrar serves as the Executive Director of the Climate Justice Alliance. She has committed her life to advancing the role of the grassroots sector and provides agile leadership and structure to address and adapt to the changing and complex priorities of local communities while influencing national and international political agendas on climate justice, Just Transition, food sovereignty and other sectoral shifts toward a Regenerative Economy. She has worked substantially building alignment between philanthropy and the Grassroots sector to move multi-million investments to the grassroots sector serving on multiple boards, advisory committees and leadership teams of funds, family foundations, and multi-sector strategy groups.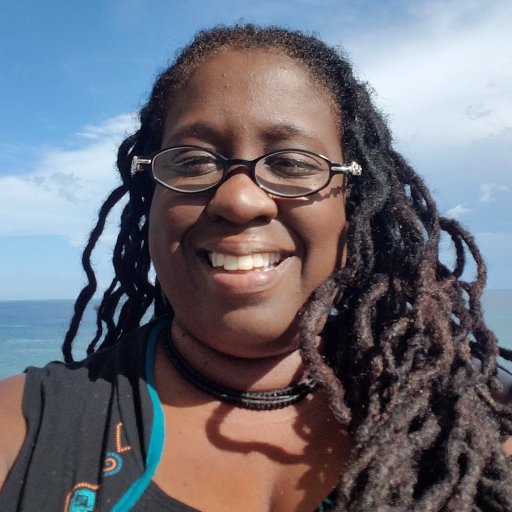 Jacqui Patterson
Director of the NAACP Environmental and Climate Justice Program
Jacqueline Patterson is the Director of the NAACP Environmental and Climate Justice Program. Since 2007 Patterson has served as coordinator & co-founder of Women of Color United. Jacqui Patterson has worked as a researcher, program manager, coordinator, advocate and activist working on women's rights, violence against women, HIV&AIDS, racial justice, economic justice, and environmental and climate justice. Patterson served as a Senior Women's Rights Policy Analyst for ActionAid where she integrated a women's rights lens for the issues of food rights, macroeconomics, and climate change as well as the intersection of violence against women and HIV&AIDS. Previously, she served as Assistant Vice-President of HIV/AIDS Programs for IMA World Health providing management and technical assistance to medical facilities and programs in 23 countries in Africa and the Caribbean. Patterson served as the Outreach Project Associate for the Center on Budget and Policy Priorities, and Research Coordinator for Johns Hopkins University. She also served as a U.S. Peace Corps Volunteer in Jamaica, West Indies.
Patterson's publications/articles include: "Jobs vs Health: An Unnecessary Dilemma", "Climate Change is a Civil Rights Issue", "Gulf Oil Drilling Disaster: Gendered Layers of Impact", "Disasters, Climate Change Uproot Women of Color"; "Coal Blooded; Putting Profits Before People"; "Just Energy Policies: Reducing Pollution, Creating Jobs": "And the People Shall Lead: Centralizing Frontline Community Leadership in the Movement Towards a Sustainable Planet"; and book chapter, "Equity in Disasters: Civil and Human Rights Challenges in the Context of Emergency Events" in the book Building Community Resilience Post-Disaster.
Patterson holds a master's degree in social work from the University of Maryland and a master's degree in public health from Johns Hopkins University. She currently serves on the International Committee of the US Social Forum, the Steering Committee for Interfaith Moral Action on Climate, Advisory Board for Center for Earth Ethics as well as on the Boards of Directors for the Institute of the Black World, Center for Story Based Strategy and the US Climate Action Network.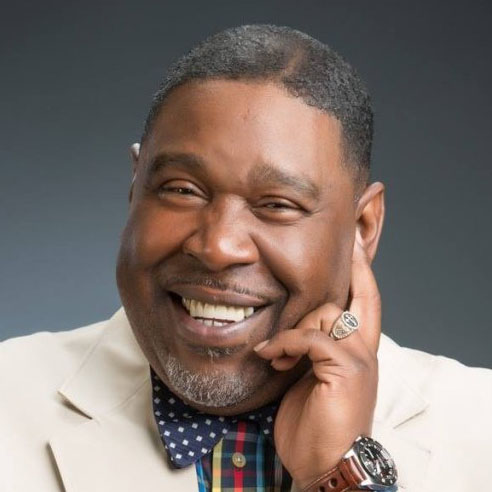 Rev. E.D. Mondaine
Portland NAACP President
Philanthropist. Activist. Entrepreneur. Author. Public speaker. Civil leader. Musician, and Portland's NAACP, President (as of 3/5/18) … Elbert Mondainé's multifaceted career encompasses a host of talents and ministries. But the passion that fuels every expression burns from a single fire: Mondainé has dedicated his life to restoring the church as a community resource and reviving communities from the inside out.
Mondainé's life of service is a testament to the passion that drives him and the work that gives him joy. A pastor, a prophet, and a proud father and grandfather, Elbert Mondainé holds the office of Apostle within the Christian faith. He serves as Senior Pastor at both Celebration Grace Center in St. Louis, Missouri, and Portland, Oregon's Celebration Tabernacle Church — a nondenominational organization founded by Mondainé in 1988. Since its inception, Celebration Tabernacle has been a social and spiritual force within both the Christian and secular communities. More than that, it's become a model for church-based community involvement, with programs that emphasize both leadership and entrepreneurship.
Apostle Mondainé draws from a rich professional background that spans music, social work, and corporate management. As a member of the U.S. Armed Forces, Mondainé directed the USAAF (United States Army/Air Force) Gospel Choirs across much of Europe. After completing his military service, Mondainé returned to America to become one of the first African American managers for a major subsidy of the Tandy Corporation.
In his early life, Mondainé grew up in the church. His vibrant home-community filled him with meaningful lessons, experiences, and perspectives that guided and shaped his adult life. After serving as Minister of Music at several churches in Missouri and Oregon, Mondainé was appointed to the executive board for the Billy Graham Crusade to Portland, Oregon in 1992. His experience, faith, vision, and dedicated congregation allowed him to create The True Believers Assembly — an organization that re-established the church as a resource for the people and a pillar of community support. The work he began then continues to enrich the communities he supports today.
A true renaissance man, Apostle Mondainé has recorded three albums to date, with his latest CD, JUST AS I AM, slated for release in early 2018. He is also the author of The 5AM Chronicles. A loyal friend and culinary enthusiast, Elbert Mondainé's infectious energy and open-hearted generosity are hallmarks of the blessings he bestows to all in his care.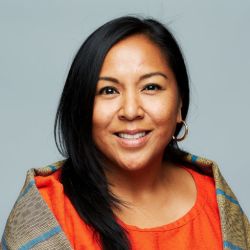 Darryl Molina-Sarmiento
Executive Director, Communities for a Better Environment
Darryl Molina Sarmiento is the Executive Director for Communities for a Better Environment, a 40-year-old environmental justice organization that builds local power through community organizing, research, and legal support in Wilmington, South East Los Angeles, East Oakland, and Richmond, California. Darryl embodies CBE's leadership ladder, having first encountered CBE at the age of 18, when she took a CBE Toxic Tour. In 2005, she formally joined CBE as the Youth Program Coordinator where she organized youth to defeat the Vernon Power Plant. In 2011, Darryl transitioned into the role of CBE's Southern California Program Director and was at the helm of successful community-based campaigns against the fossil fuel industry and toxic polluters. Darryl was instrumental in leading the passage of Clean Up Green Up, a City of Los Angeles ordinance that is one of the first Environmental Justice Green Zone Policies in the nation. She has worked on the passage of statewide energy and climate policy and has worked to advance local clean energy and transportation goals. Darryl graduated from UCLA and has done labor organizing with AFSCME Local 3299 and community organizing with the Pilipino Workers Center of Los Angeles. She previously served on the boards of Southern Californians for Youth, The California Fund for Youth Organizing and the Southwest Network for Environmental and Economic Justice.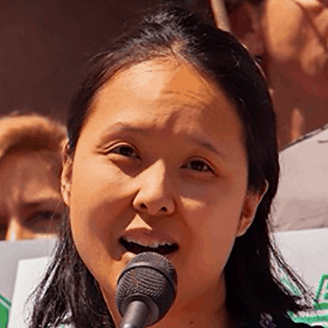 Khanh Pham
Alliances Director, OPAL Environmental Justice Oregon
Khanh is Vietnamese-American, and that identity shapes a lot of how she sees the world. "It has shaped how I understand US imperialism, and also driven me to want to understand the systemic causes of inequality, both globally and locally. I have beloved family and friends in Vietnam, and so when folks talk about the Global South being the most impacted by climate change, they're not just an abstraction to me, but people who I love and am willing to fight for."
"I just turned 40 this past year," Khanh says, "which means that I've been organizing for about two decades. I haven't always done it as a paid organizer, and for most of my twenties, I worked as a fundraiser for various international / media non-profits, and did my grassroots organizing at night and on weekends." Although that was hard for her, and led to burnout, Khanh appreciated that it taught her what to organize outside the non-profit industrial complex. "I'm very glad to be paid to organize, but I am committed to building a movement where you don't have to be a paid staffer to be able to organize in your community and develop as a leader."
Khanh describes this moment as one "of transformation: economically, socially, ecologically, and politically. There are tremendous ruptures happening, which are dangerous but are also opportunities to unite people around a vision around a different world." Khanh says she feels called to do everything possible to bring about the real transformations we need in our economy and society. She says this work is necessary, "if we want to preserve a habitable planet for our children and frankly, ourselves."
Khanh is excited to join OPAL because she wants to be part of an organization that "is not just about building itself up as an organization, but is part of a larger environmental and climate justice movement. OPAL is not just fighting for our members, we're standing in solidarity with other struggles and communities in the U.S., and around the world. At a time in which the urgency of the climate crisis is leading some people to feel desperate and turn to false solutions, I appreciate that OPAL has a clear analysis and strategic framework to be able to guide our work."
Khanh hopes to unite and expand OPAL's membership base, and create more opportunities for people to enter into our work. She also looks forward to supporting the Oregon Just Transition Alliance to develop a collective vision and plan for an Oregon Green New Deal that stops the expansion of fossil fuel infrastructure, while creating the jobs that build "the next renewable, just, and caring economy," she says. "I want OPAL to be a political home for people as they seek a place where they can contribute their skills and time, be nourished by food and community, and develop as leaders."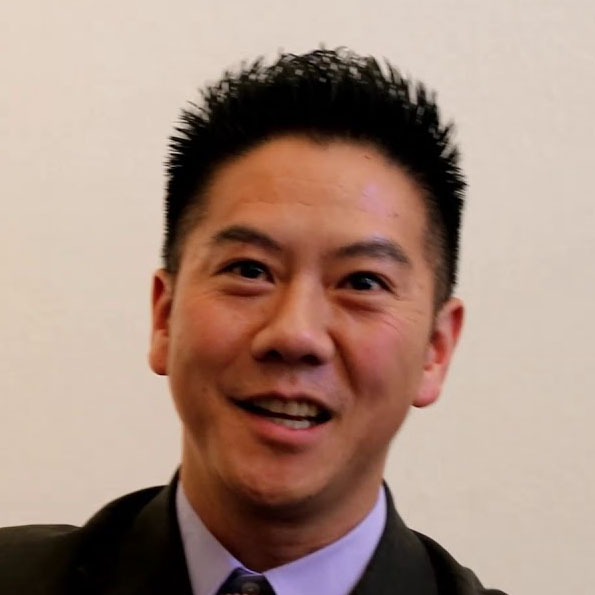 Huy Ong
Executive Director of OPAL Environmental Justice Oregon
Since 2016, Huy Ong has served on OPAL's Board of Directors as the Executive Director.  A dynamic trainer, facilitator, and fundraiser, Huy brings communities together to address tough issues.
"I believe in intersectional organizing and collective transformational actions," he says. "Putting people, our communities and the planet first is a core value that I have."
Born in Ho Chi Minh, Vietnam, Huy is one of six children of Chinese immigrants. He came to Portland as a refugee at the age of 2, and grew up here, living in a rental on SE 82nd Avenue. 
Huy has worked hard his entire life, picking strawberries at an early age, then in food service and retail. He was the first Organizer for the Oregon Students of Color Coalition, where he developed and launched state-wide campaigns addressing racial profiling, tuition equity for undocumented students, and college affordability. Huy led a national student voter registration and education campaign with the US Student Association, and built lasting organizing power for the student community.
Most recently, Huy's passion led him to Jobs With Justice. As Western Regional Field Organizer, Huy strengthened a national network dedicated to people-powered, collective action. He assembled long-term coalitions among unions, community groups, the faith community, and student organizations to take on corporate greed. 
Huy now lives in the Gateway district of East Portland with his partner, Andrea, their child, and their terrier-poodle, Balboa. "Rosalía Ka Ling Ong is my reason for everything," he says, beaming with pride referring to his daughter. 
Huy brings his network, diplomatic prowess, and expertise in organizing, training, coalition-building and strategy to OPAL. With the support of our Board, Huy leads a powerful team, backed by a broad base of members from the communities we serve where he focuses on deepening relationships with low income communities.
We need everyone on board to support this vision of success. Make a donation today. Your gift will sustain OPAL as we lead on the Environmental Justice campaigns of the future.
Support the Alliance
Help us direct money and resources
to frontline communities
Grow With Us
Be part of the community by signing
up to our mailing list