By Angela Mahecha Adrar, Executive Director of Climate Justice Alliance/Director Team of It Takes Roots, and Kathryn Gilje, Executive Director, Ceres Trust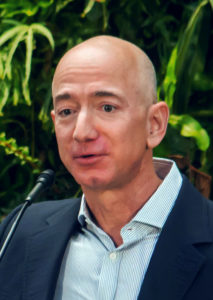 Dear Mr. Bezos,
We are writing to thank you for dedicating $10 billion to the new Bezos Earth Fund, and to welcome you to the world of climate change philanthropy. As long-time funders and organizers for social justice, we know it can take years of work and many missteps to really understand this field. With that in mind, we'd like to share what we have learned and invite you and the Bezos Earth Fund team to discuss both our concerns and the potential for us to do extraordinary work together.
The field of climate change philanthropy is far from simple. Newly-minted funders, despite good intentions, can actually do harm to communities they're trying to help, and undermine climate targets they're trying to reach. Perhaps the most important lesson we hope you'll draw from this letter is: there is nothing worse The Earth Fund could do than meet behind closed doors and unilaterally decide what is best for people who live the realities of climate change every day. If you are sincere, you must share the power of your fund with folks on the ground.
The following list of  five suggestions will explain more practically what this means.
1) The Bezos Earth Fund must build equitable partnerships with grassroots leaders.
 Who makes the decisions, and how those decisions are made, will determine your Fund's success or failure.  So — we ask not what you plan to do with the $10 billion, but how leaders on the front lines of intersecting racial, gender, health, environmental, climate and housing injustices would allocate these funds. They are the ones who have the solutions for their communities because they are from them.
If the Bezos Earth Fund wants to lead, the only path is one in which grassroots leaders have seats at the decision-making table and control the distribution of resources. The Fund's decision-making board must include at least two-thirds representation from organized frontline communities. You can achieve this by moving funds immediately to an ecosystem of already-established funds that integrate frontline community members into transparent, participatory decision-making processes, including: the Building Equity and Alignment for Impact Fund, hosted by Grassroots International, NDN Collective, CLIMA Fund, Climate Justice Alliance, Indigenous Environmental Network, Thousand Currents, and other funds nominated by grassroots movement partners.
2) The Bezos Earth Fund must learn from others' mistakes in resourcing the grasstops and market-based, false solutions.
We have seen major donors make the mistake of focusing their giving on large and mainstream environmental organizations, the so-called "Big Greens," often criticized for causing environmental harm through their false solutions such as carbon offset schemes that allow their corporate donors to continue polluting. But to truly combat climate change, we need local solutions developed by local leaders who are building resilient regional ecosystems and economies that will enable us to meet our needs in a post-carbon world.
You could surprise the philanthropic establishment by funding grassroots solutions accountable to the communities and places they serve, and by supporting a larger ecosystem of organizations based in rural and urban communities around the country. You could support Indigenous leadership, not only because their communities have often been the most affected by the extractive economy, but because their experience and wisdom are crucial to building real solutions to heal our relationships with the planet and one another.
You could also work in solidarity with the Just Transitions our social movements and communities are visioning and practicing. While they build democratic, just, and sustainable businesses that anchor to a low carbon future, we are demanding the redistribution and community control of resources and power, and strong public infrastructure to ensure communities, both urban and rural, can survive and thrive. That means centering local human needs and ecological health, rather than extracting profit. Therefore, any funding dedicated to helping communities or healing the earth must not only distribute resources, but fundamentally shift power. 
3) Philanthropy is no substitute for justice: Amazon must change its business practices if the Earth Fund is to be taken seriously. 
You recently announced the $10 billion Bezos Earth Fund for climate change, an amount equivalent to what you earn roughly every six weeks. Bizarrely, you are simultaneously asking the public to donate to a fund to supplement low-wage and impacted Amazon employees. Before you look to save the planet, we ask that you  pay a living wage, provide safe working conditions, stop engaging in union-busting activities, and act on the demands of your own employees to quickly and aggressively reduce Amazon's climate impacts.
We know climate and human rights crises intersect, and charity is no substitute for justice. This is why, as funders and organizers, we support a full-scale, just transition of our economy. We know an economy designed to extract as much profit as possible for a few can never meet the needs of present and future generations. We call this "extractive capitalism," and Amazon reaps its benefits.
An authentic response to this moment would require Amazon stop the inhumane treatment and abuse of frontline workers and ensure paid sick leave, healthcare, safety and protections for workers, and a living wage for all employees. As philanthropists, we are following and funding the leadership of workers and frontline communities staging walkouts and strikes and who, like Athena, are working to disrupt the current reality. We call on you to do the same, so you and all of us know that you are truly contributing to undoing, rather than deepening, structural inequities.
4) Philanthropy is no substitute for paying your taxes: Amazon must pay  taxes and advocate for higher tax rates for corporations and the very rich.
The accumulation of wealth at the scale we're seeing can only happen through an economic system built on the extreme extraction of our natural resources, the exploitation of human labor and suffering, and the avoidance of taxation. Over the last several decades, we have seen the consequences of wealthy individuals using their resources to drive disaster capitalism and privatize essential public systems. While the rich have become richer, they have used their undue influence over our politicians and political system to weaken the public sphere and rig the economy even more. We have watched cities and towns suffer under the divestment from public coffers and social safety nets and an accompanying shift to reliance on charity to meet fundamental needs. Even in Seattle, where your headquarters are, you held the city hostage in order to kill a small tax that would have helped house those without homes, even as your company takes billions of dollars in public subsidies.
We are here to tell you: What we need more than your philanthropy is for your wealth to be taxed and your employees paid a living wage. It is unconscionable that your own employees pay more in taxes than the world's richest company.
5) We invite you to engage in deep dialogue to align our work in support of people and the planet.
In the coming months, the Bezos Earth Fund will be watched and held to account. We ask that you support the People's Bailout to ensure the survival of working people and marginalized communities during the pandemic. We ask that you coordinate with others in philanthropy to provide emergency funding to frontline organizations.
We will not applaud billionaires for doing the bare minimum while ultimately upholding the structures that protect their class interests and privilege, leaving everyone else behind. Think about this: your money, if taxed at the post-World War II rates that created the broad middle class, would be largely in the public domain. That's why we call on you to spend it through a process that shares power, while supporting the long-term organizing required to create a fair and just economy. Much good can be done with $10 billion, but this fund will not cover you to continue harming people and the planet.
We call on you immediately to publish a plan for drastically reducing Amazon's greenhouse gas emissions, as your employees have demanded you do. We call on you to pay a living wage with real benefits to every employee. And we call on you to cease your monopolistic business practices that are tearing the heart out of small towns and large cities across the country. This moment requires unprecedented action and equity-driven funding of grassroots leadership. We call upon you, as well as other billionaires, to invest in the leadership of frontline community-based organizations that are already creating the just transition we need to a regenerative economy. We are ready and willing to support you in moving towards these calls to action by sharing the experience, knowledge, and tools we have developed through the last thirty years.