Let's Save the Earth, Let's Change the System
It Takes Roots Delegations to Spain and Chile
Indigenous Peoples lead 500,000 person Climate March in Madrid, Spain.
Colonialism caused this Climate Crisis and Indigenous Rights are the climate solution. "My ancestors were the original climate activists, beginning at first contact. We've sacrificed everything for our lands. We've fought, we've died. We as Indigenous youth are calling on Global leaders to do better." Video by Indigenous Climate Action
Goals of the It Takes Roots Delegations
After the Chilean government decided to move COP25 from Santiago, Chile to Madrid, Spain in order to avoid more international attention for the massive protests, we decided that we will send delegations to both Chile and Spain.
Madrid, Spain
Heads of state and international leaders will meet in Spain from December 2-13, 2019, for COP25, the UN climate-change talks. Social collectives and organizations have called for a Social Summit for Climate. Our goals in Madrid:
1. Strategic alignment with Social Movement Allies.
2. Frontline Intervention against Carbon Markets.
We will disrupt the entrenchment of a global carbon market regime through Article 6 of the Paris Agreement and the Techno Fix dangerous false solutions of geoengineering.
3. Advance Social Movement Articulation of Just Transition.
Just Transition is a strategy for addressing the climate crisis at the root–capitalism and the extractive economy. We will distribute Just Transition Principles, release Just Transition Primer and engage in discussion and events around Just Transition frames with organized labor and other movement forces.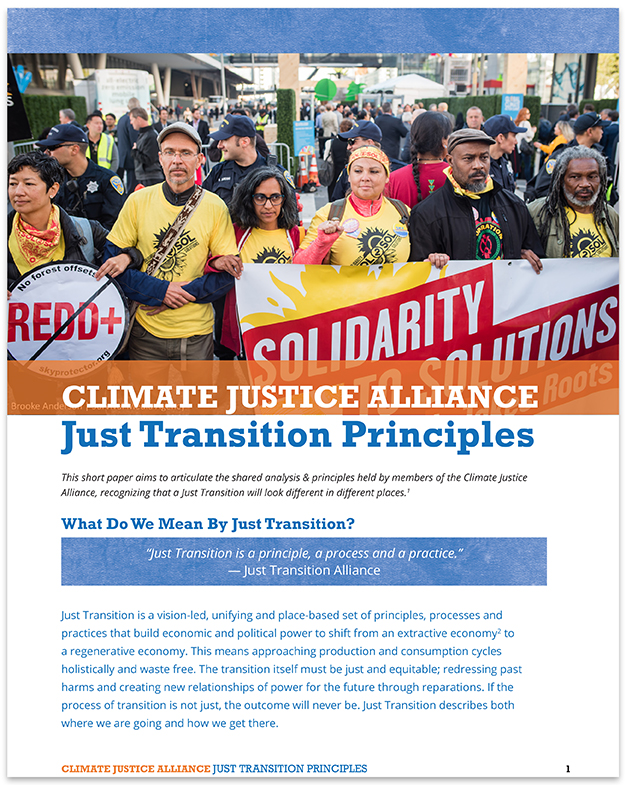 4. Build Practice around the Frontline Green New Deal.
Bring attention to our Frontline Green New Deal strategies and our frames.  Engage with the North American popular front broader forces who will be present at the COP to keep frontline voices and frameworks at the center, including the Feminist Green New Deal Press Event
Santiago, Chile
Chilean popular movements announced that even tough COP25 moved to Spain, the peoples mobilization would continue. We will join the Cumbre de los Pueblos from December 2-8, 2019. Our goals in Santiago:
1. Stand with the Chilean Uprising against Neoliberalism and State Terror.
We are standing with the courageous Chilean social movements in the struggle against neoliberalism and against the repressive Piñera government. The steadfast rebellion for social justice in Chile has been attacked with militarized state terror. We condemn the human rights violations and we will join the protests in the streets of Santiago, Chile together with the World March of Women. The leadership of women in the uprising has been inspiring.
2. Deep engagement with International Allies and Support for Popular Movements in the Americas.
Strategic engagement with social movement allies in the context of a the popular uprisings in Chile and Ecuador, and the contestation for power between popular movements and a global right-wing realignment of power from Bolivia to Venezuela, Brazil, Honduras, and across the Americas. We will build with the World March of Women, ANAMURI and La Via Campesina, Amigos de la Tierra, the Movement of People Affected by Dams, the Trade Union Confederation of the Americas, and Indigenous Peoples Movements from across the Americas
3. Political Education & Member Leadership Development.
We will sharpen our articulation of Feminist Economy & challenge Neoliberalism & Neofascism through participation in the Cumbre de los Pueblos, the womens, campesino, and workers assemblies, as well as the escuelita feminista.
4. Advance Social Movement Articulation of Just Transition.
Just Transition is a vision-led, unifying and place-based set of principles, processes, and practices that build economic and political power to shift from an extractive economy to a regenerative economy. This means approaching production and consumption cycles holistically and waste-free. The transition itself must be just and equitable; redressing past harms and creating new relationships of power for the future through reparations. If the process of transition is not just, the outcome will never be. Just Transition describes both where we are going and how we get there.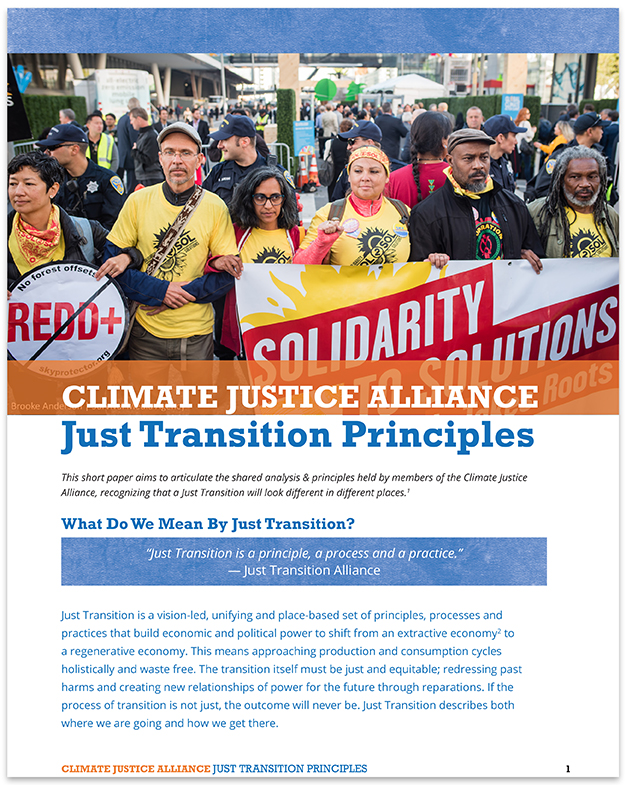 ¡Alerta! Livestream Webinar from Spain and Chile
The two delegations put together a joint webinar on December 5, connecting the mobilization against neoliberalism in Chile and the participation of indigenous and frontline youth at COP25 in Madrid, Spain.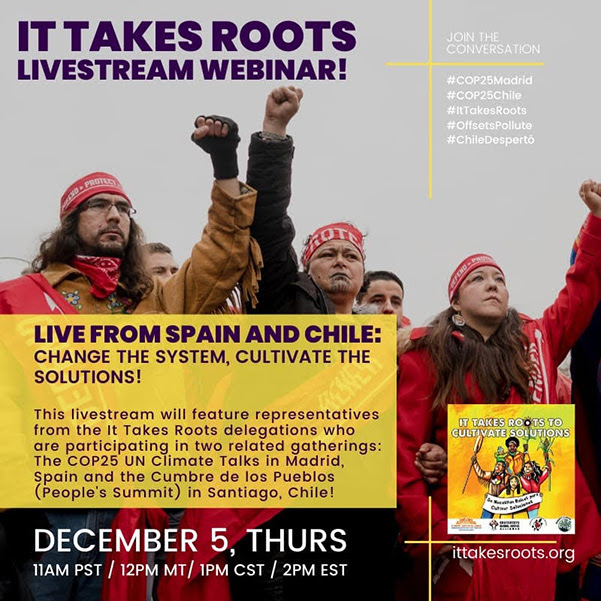 Watch the recording to learn how we are pushing back against Carbon Market schemes at COP25, and why addressing only carbon emissions without challenging the growth-at-all-costs economy doesn't resolve the real crisis.
Just Transition
Just Transition is a vision-led, unifying and place-based set of principles, processes, and practices that build economic and political power to shift from an extractive economy to a regenerative economy.
Photo: Just Transition panel at the People's Summit in Madrid, during COP25 in Spain, with La Vía Campesina, Indigenous Environmental Network, Cooperation Jackson, Native Movement, National Farmers Union.
We held a series of events calling out the flaws of Article 6 of the Paris Agreement, that supports Carbon Pricing and offsets as a solution to climate change.
The Indigenous Environmental Network and Climate Justice Alliance launched the Carbon Pricing Toolkit Vol. 2 just ahead of COP25. The educational guide and toolkit explains why we reject carbon pricing and offsets.
Carbon Pricing: Popular Education Toolkit for Community Resistance, Volume 2 is for every group and community organizing for climate justice, resisting the false solutions of carbon pricing. This project began side-by-side with the publication, Carbon Pricing: A Critical Perspective for Community Resistance, Volume 1, which was published in 2017 by IEN and CJA. The toolkit includes short readings, workshop activities, workshop plans, and responses from Indigenous leaders directly impacted by carbon pricing projects.
More information, visit:
It Takes Roots is a multiracial effort led by women and gender oppressed people of color and Indigenous peoples on the frontlines of racial, housing and climate justice across the country. The collaboration began during the organizing for the Peoples Climate March in 2014 and has since continued to build a Visionary Opposition.
Today It Takes Roots has alliance members in 200 organizations and in more than 50 states, provinces and Indigenous territories, nationwide and in Canada. Each alliance is led by grassroots organizations, and each brings unique contributions to our collective work.
Check out videos, photos and more information from the actions and events that the It Takes Roots delegation engaged in during COP24 last year in Poland:
Participating CJA Members