We are reaching out to you, CJA member and allies, to respond to the many messages we have received expressing feelings of disbelief, anger, mourning, and real fear as a result of the elections and Trump's 100 day plan. In this difficult moment, let us remember that we have been on a trajectory to build the Our Power Campaign for years; amplifying the success of local grassroots communities by providing real solutions that we can invest in and that respect Mother Earth. Our communities remain on the frontlines of environmental and climate crisis, and are determined now more than ever to lead a systemic change that will end the rise of deep-seated bigotry, misogyny, xenophobia, homophobia, and life-threatening climate change denial.
Our communities have survived genocide, colonialism, slavery, patriarchy, white supremacy, segregation, and stolen culture & land. We too will collectively overcome this moment if we stand together. We are inspired by the #Our100 actions, the student walk-outs, and the #NotMyPresident mobilizations. Negotiating with climate deniers and placating right-wing populists like some have begun to do is a dead-end that undermines the progress our movements have made and could make. Instead of being complicit at this time, we need to build a broader movement of resistance, hit the streets and organize power.
We Will Hold the Line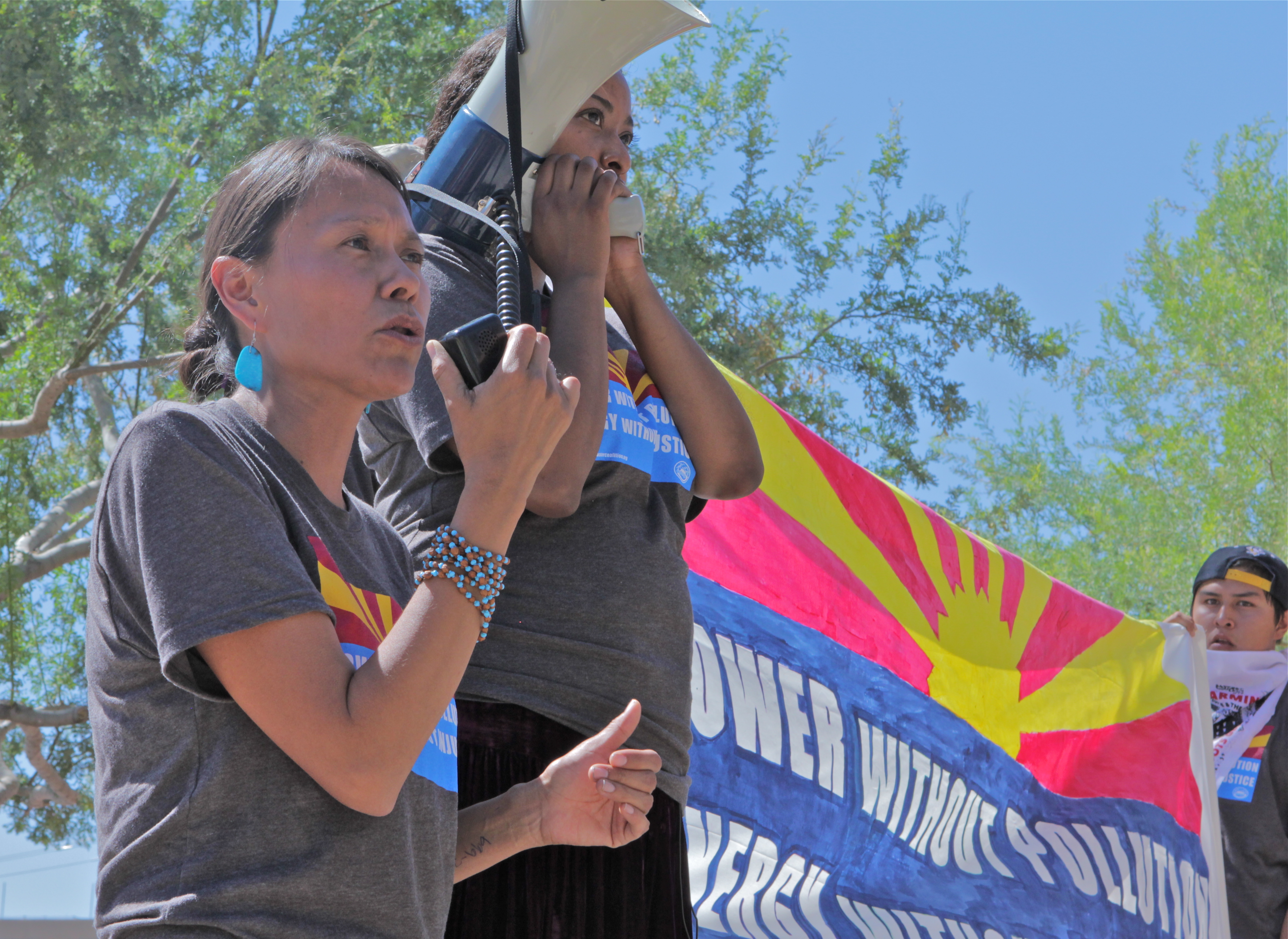 We are committed to doubling-down our efforts to expand Our Power communities across the nation, and waging a strong Reinvest in Our Power campaign to support them. The grassroots needs to lead our movements. While the terrain has shifted, our overall 4 Year Strategy still stands. Additionally, CJA will: (1) Hold the line on environmental and climate justice: (2) Consult with our communities to provide a collective response to this moment; (3) Prepare our communities for a intensified direct and prolonged fight with the fossil fuel industry and special interest groups; (4) Have difficult conversations about privilege, class, and race with our allies for greater alignment; (5) Put forth a strong call to philanthropy and responsible investors to join our efforts; (6) Engage in dialogue with workers for a common future based on a Just Transition; and (7) Build with broader social movements at a national and international level. Specifically, we will organize a caucus with our grassroots environmental and climate justice leaders to put forth a collective strategy of resistance.
Implications and Victories
The Trump Administration has laid out plans to redevelop the Keystone XL Pipeline, will likely push the Dakota Access Pipeline, and rip up the Clean Power Plan. Our communities have been organizing and building resistance to these efforts and will continue to do so. We have an opportunity during this lame duck session to advance our agenda, for example, help Kentuckians For The Commonwealth put pressure on Congress to pass the RECLAIM Act, and help the Indigenous Environmental Network to push the Obama Administration to reject DAPL once and for all.
Despite the national election results, we know our power flexes strongly at the local and state level. Our movements for racial, economic and environmental justice won victories that we need to uplift and leverage. From the incredible resistance of indigenous communities in Standing Rock to the win against a regressive Carbon Tax in Washington, from Sheriff Joe Arpaio's defeat in Arizona to the election of the first Somali American Muslim woman legislator in Minnesota, from large scale adoption of laws that decriminalize cannabis to gun control, from minimum wage increases to repealing the law that limited bilingual education in California, from increased renter protections to the quadrupling of Women of Color in the Senate, and more. None of this would have been possible without ORGANIZED people power.
We Must Act Now and Act Together
This is a time to come out strong on our values and support one another in this fight. We cannot afford to retreat back into our silos. We need to build a strong, cross-sector, cross-community movement of movements. Here are some immediate actions we can take in solidarity with each other: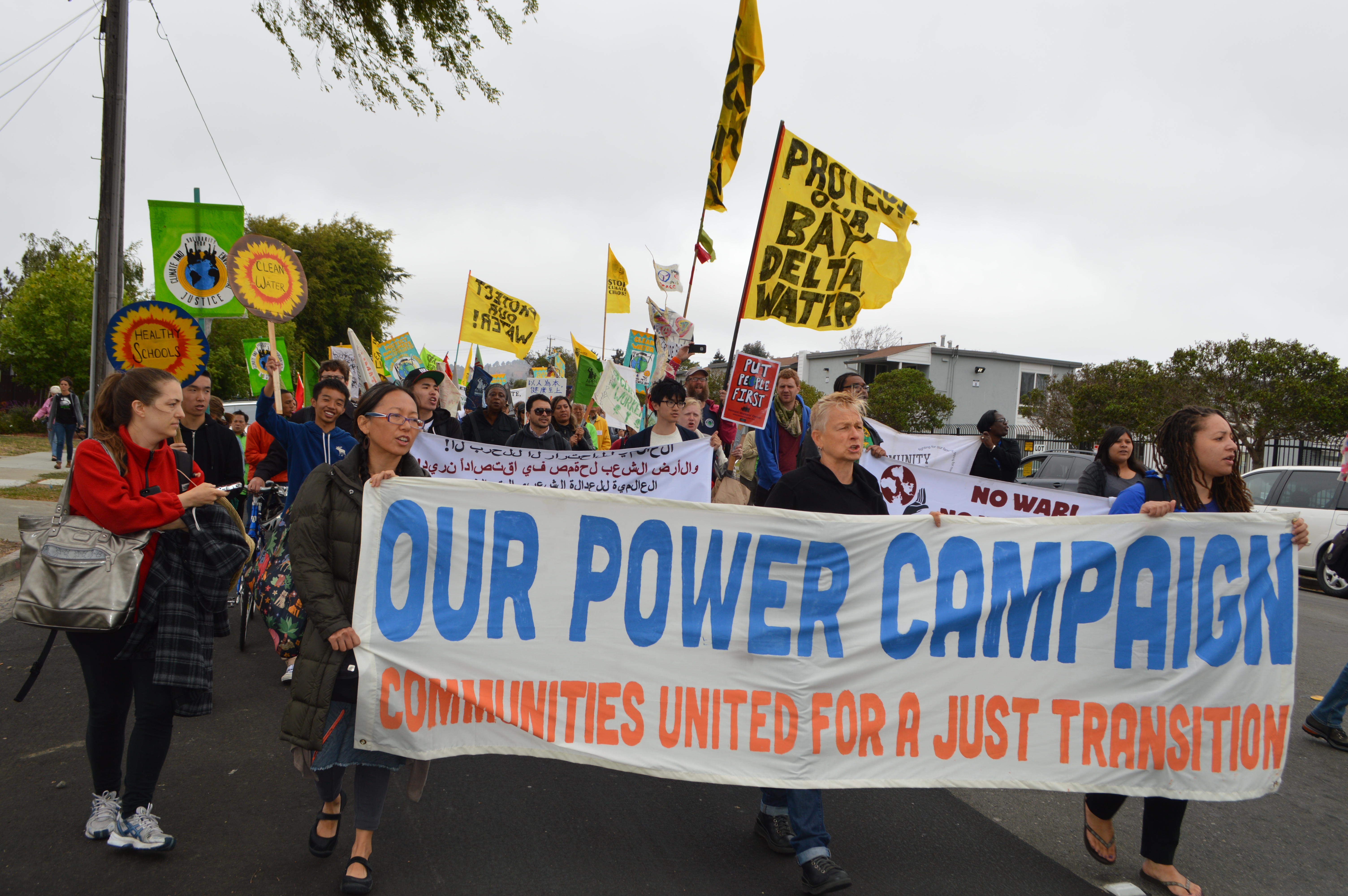 Stop the Dakota Access Pipeline – On November 15th join the national day of action to Pressure Army Corps of Engineers to deny DAPL their permits.

Come Together – Participate on our emergency CJA full membership call on Wednesday 16th, at 3pm EST/12pm PST to discuss our strategy and give input on our collective actions.

Mobilize to Standing Rock – Organize POC, LGBTQ, Women, and Immigrant communities to join the CJA/GGJ Thanks-taking "500 Years of Resistance" delegation to Standing Rock on November 22nd-27th, 2016. For more information, join our call on November 14 at 3pm EST/12pm PST.

Defend the MST – Host an action in solidarity with the Landless Peasant Movement (MST) in Brazil, who are under attack by the repressive coup regime. There is much to learn and share with their struggle.
We will build together and heal together!
In Solidarity,
Angela Adrar
Executive Director
Climate Justice Alliance


————————
Resource Links
Trumps Transition Team:
http://www.politico.com/story/2016/11/who-is-in-president-trump-cabinet-231071
The New Administration's 100 day plan
http://www.npr.org/2016/11/09/501451368/here-is-what-donald-trump-wants-to-do-in-his-first-100-days
Local and State Election Outcomes
https://docs.google.com/document/d/1ctN-xQLQxzljs2_S2E1FMk4upcG8_xe73ckt5uYZPbQ/edit?usp=sharing