For Immediate Release
Contact: Olivia Burlingame 301-613-4767 olivia@climatejusticealliance.org
July 22, 2021 – Today, Climate Justice Alliance (CJA) officially welcomes three experienced, dedicated and undeniably powerful women of color as CJA's Co-Executive Directors: Ozawa Bineshi Albert, Monica Atkins and Marion Gee!  All three have strong ties to CJA membership, and base-building and community centered organizations working for a Just Transition throughout Turtle Island (North America).
"This is a pivotal moment for humanity as we face a climate crisis that will soon be irreversible, riddled with record climate catastrophes, increasingly devastating extreme weather events, and racist attacks on our peoples. Our communities, those on the frontlines and those who for far too long have been historically excluded, discriminated against and even murdered, are fighting for our lives. We can not rely on the outdated and often exclusionary model of individual leadership. Our movement has always been leaderful and intergenerational. Today, we are proud to announce the new executive team of CJA with these three, impressive, and dedicated women who we know will rise to the occasion and support frontline, grassroots leadership in healing our peoples and the planet."
– Elizabeth Yeampierre & Mateo Nube, Co-Chairs of CJA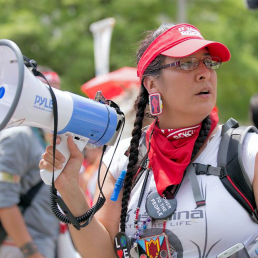 "There is nothing more important than instilling in society ways of being that honor and respect the rights of Mother Earth. We must build the new while also remembering the teachings of our ancestors who co-existed in relationship with all in nature. I look forward to co-creating this vision and strategy with the 74 CJA member organizations who lead us and who every day are doing this transformative work on the ground."

Bineshi Albert grew up in the movement and remembers her family organizing for community and Indigenous Rights throughout her upbringing. Her work over the last 30 years has primarily focused on environmental justice and Native/Indigenous rights. She has also been part of many pivotal movement building and multicultural spaces throughout her career. She joins CJA from one of our founding member organizations, the Indigenous Environmental Network (IEN). In fact, she was a founding board member of IEN, served on their three person Leadership Team alongside the Executive Director and was their Movement Building Coordinator and Co-Coordinator for Indigenous Feminisms. She is proud to have contributed to the work of It Takes Roots, the Rising Majority and international movement spaces. While at IEN, Bineshi supported the creation and development of both an Indigenous Feminist Organizing School and an International Feminist Organizing School. Before that, she held many positions including the Interim Co-Director at SAGE Council, one of the founders of the Native American Voters Alliance; Regional Director (West) for the Center for Community Change, Co-Director of the SouthWest Organizing Project (SWOP), and she served as a lobbyist for a number of initiatives including Strong Families in New Mexico. Bineshi began her organizing work with the Coalition for the Rights of Indigenous Peoples and Native Lands' Toxics Campaign at Greenpeace. She holds a degree in Indigenous Liberal Studies from the Institute of American Indian Art with minors in Performing Arts and Creative Writing. She is the proud mother of three: a daughter and two sons, and recently became a grandmother. She makes her home in relocated Yuchi & Muscogee territory in Oklahoma, also known as Tulsa.
"It is an honor to Implement the vision of grassroots communities to build translocal organizing strategies at such a pivotal moment, when we must show the utility and strength of community controlled regenerative energy models! I'm excited to support our members and movement in building power, growth, and just and sustainable communities."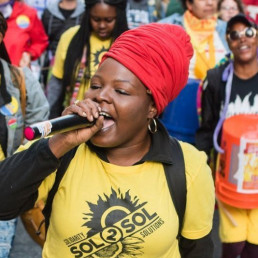 Monica Atkins began her journey with CJA as our Southeast Regional Organizer in 2017 through Cooperation Jackson. She then moved on to become CJA's National Organizer and Co-Coordinator until finally in 2020 she became the Organizing Director & part of the organizations' interim leadership structure. With the support of members, Monica has supported the Our Power Communities expansion from 7 to 34 active communities working toward a Just Transition and building regenerative economies through translocal organizing. She has also been critical to the success and operation of CJA's Black Caucus organizing. Before joining CJA she was and continues to be an active member of Cooperation Jackson in Jackson, Mississippi and organized social and cultural events and actions including Art, Poetry, and Justice Slam; Freedom Summer March; and March on Mississippi For Workers' Rights with artists and activists such as Common and Danny Glover. Monica also worked for several labor organizations including the United Auto Workers, American Federation of Teachers, and Communication Workers of America. She is a Chicago native and graduate of Jackson State University where she completed a Bachelor's degree in English with an emphasis in Journalism. A poet and activist at heart, Monica's passion for the arts has led her to organizing workers and communities through cultural organizing and base-building for more than 10 years.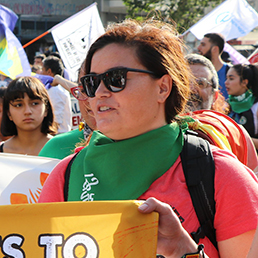 "Ensuring that frontline communities' expertise in fighting for justice and solving the root causes of the climate crisis is honored, centered, and resourced at scale has been central to the work I have supported at CJA. I am excited to help chart a course forward that continues to resource and scale the work of the frontlines who are creating the visionary solutions our communities need."
Marion Gee grew up in Southern California, watching her aunt stand with striking workers as a labor attorney and acting as a bridge between sets of grandparents who came from very different cultures, world views, and upbringings – from small villages alongside rice paddies in Southern China to the rural farms surrounding Bridgeton, New Jersey. As the Managing Director at Climate Justice Alliance since 2015, she supported the Executive Director and Board in expanding staff from seven to twenty-one, increasing the budget from $1 to $5 million, and developing the systems and staffing to implement an ambitious Four Year Strategy. Prior to joining CJA, she served as a fundraising, events, and communications consultant for social and environmental justice organizations, the Development & Communications Director at Rose Foundation, and Interim Climate Program Director at Sierra Nevada Alliance. She holds a Masters in Environmental History and Policy from the University of St. Andrews in Scotland. In her spare time, she likes to read fantasy novels, collect too many indoor plants, and play with her niece and nephew.
Climate Justice Alliance is a member-led organization of 74 urban and rural frontline communities, organizations and support networks in the climate justice movement. We work to build real solutions to the climate crisis through building local, living, regenerative economies while pushing back against false promises from corporate controlled interests.
###