By Angela Adrar, Executive Director of the Climate Justice Alliance
Framed by corruption and crisis, 2018 was a year that felt like walking through a long dark tunnel. Fascism, white nationalism, and family separations are on the rise. Yet, 2018 was also a year where millions organized in visionary opposition to these urgent crises and shifted the story of what is possible. These powerful and local victories showed us the undeniable promise of community-rooted power and solidarity-in-action.
This promise lights our collective pathway forward into 2019.
Below, are some of CJA's brightest moments from 2018. They reflect our commitment to frontline community leadership. We are fighting for a world that is rooted in dignity and collective power. We could not have done this work without you! Your support, active participation, and personal advocacy continues to advance our collective agenda.
Continue supporting CJA in the new year and be part of our bold and visionary solidarity-in-action!
Expanding Our Power Communities & Just Transition Regional Hubs    
CJA Our Power Communities (OPCs) are organizing to transform extractive economic systems into local alternatives that serve the needs of communities and workers. CJA members UPROSE, Environmental Justice League of Rhode Island, Black Mesa Water Coalition, Community to Community Development, Got Green, and the Indigenous Environmental Network are expanding and anchoring such possibilities with regional Just Transition organizing hubs. Meanwhile, OPCs like the Southwest Workers Union continue to write the story of what Just Transition look like today on the ground, creating space to dream even bigger for the future. Across 2018, CJA organized and supported seven national gatherings where leadership from frontline communities discussed Just Transition strategies for local, living, caring, and sharing economies led by communities and workers.
The most recent of these convenings—the Black 2 Just Transition Training & Assembly in Detroit—was co-hosted by Our Power Community and regional hub East Michigan Environmental Action Council (EMEAC) in November. The Assembly centered on Black liberation and leadership. Over 80 Black organizers from across the country gathered to train and build new pathways towards justice, equity, and freedom. Strategies for solidarity and alignment on Just Transition in the Midwest were lifted up. The Assembly ended with a discussion on next steps to grow Black leadership across our movements, guided by lessons and guidance from our Environmental Justice community roots. Learn more here!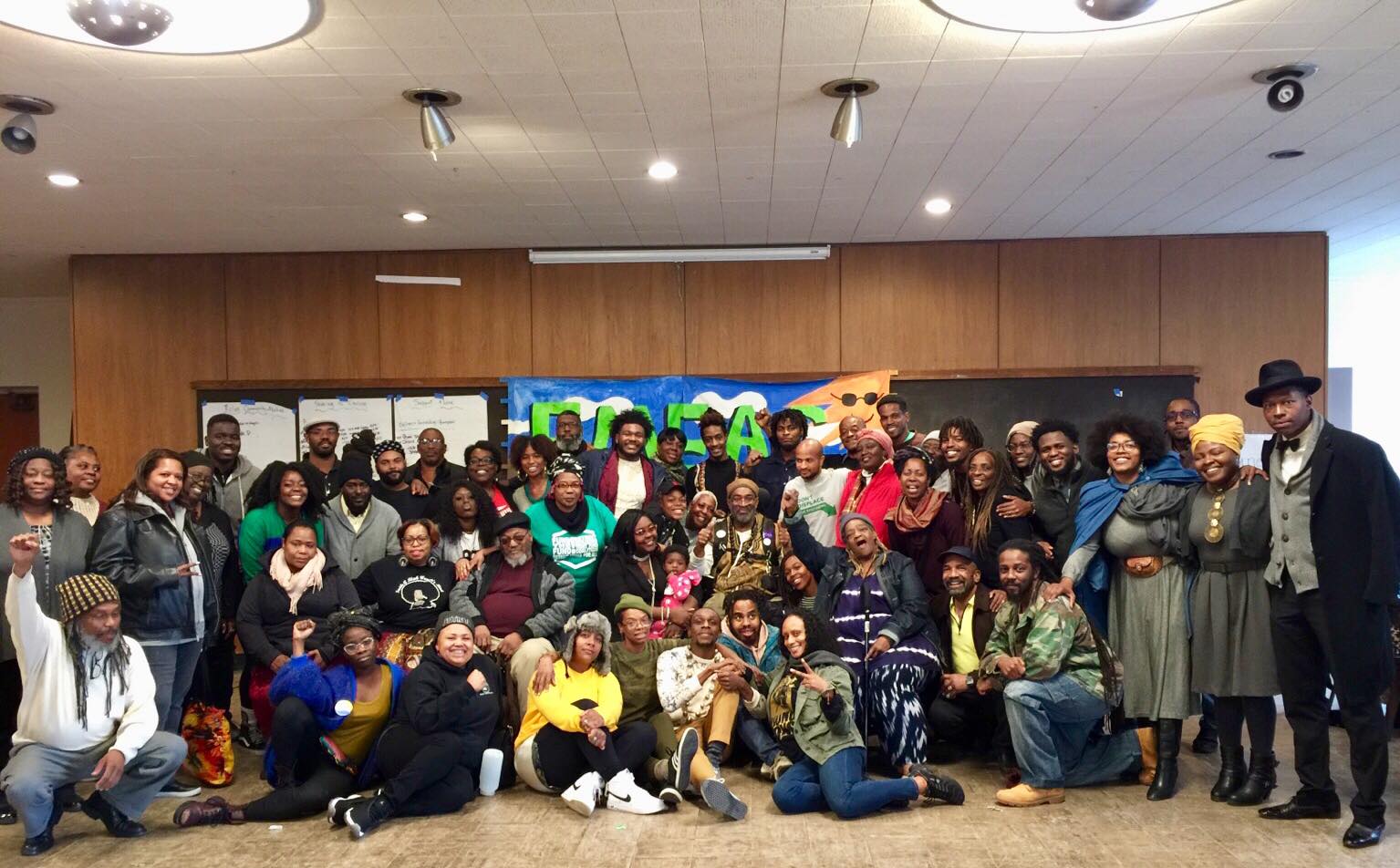 Black 2 Just Transition Training, Detroit
Gaining Ground and Scaling Out Energy Democracy  
The vision and principles of Energy Democracy are changing the discourse of climate action and solutions across the U.S. From coast to coast, CJA members are shifting the story from being dependent on corporate technologies and market-based policies that concentrate profits for a few, to frontline community-led solutions that benefit all.
The Solar on Multifamily Affordable Housing (SOMAH) program officially started this August! SOMAH was co-sponsored by CJA member California Environmental Justice Alliance (CEJA) in 2015 and continues to be a bright spot demonstrating what Just Transition and Energy Democracy can look like. SOMAH will make solar energy accessible to more than 150,000 low-income families at over 2,000 affordable housing properties. Our members Asian Pacific Environmental Network, Communities for a Better Environment, and People Organizing to Demand Environmental and Economic Rights (PODER) have been working to ensure this program reaches communities for whom it was designed.
On the east coast, CJA member UPROSE (Brooklyn's oldest Latino community-based organization) is co-creating one of the first cooperatively-owned urban power supply stations in the nation. Sunset Park, a waterfront neighborhood in Brooklyn, will soon have an 80,000-square-foot rooftop solar garden that will be community owned. You can read more about this extraordinary project here. UPROSE's Executive Director, Elizabeth Yeampierre, sums up their vision: "This is the whole idea of a Just Transition. We want to move toward local, livable communities where people actually own the infrastructure that will help them thrive economically, and not have to depend on fossil fuel."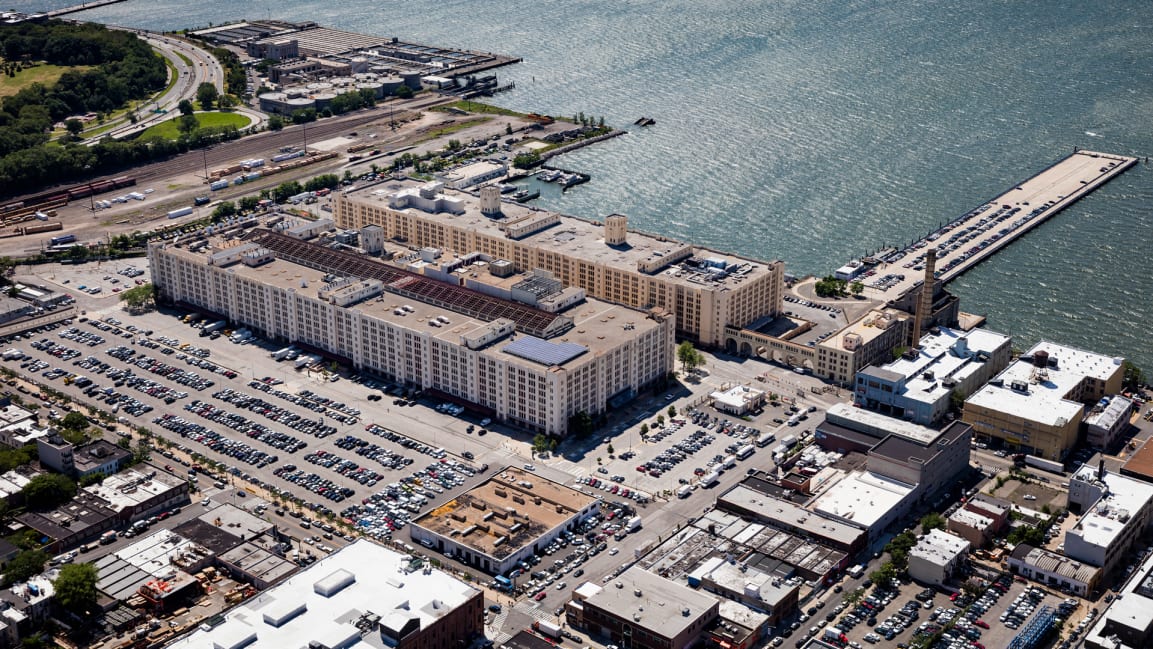 Down South, CJA member Another Gulf is Possible shows us we can survive without fear of each other and we can live in balance with our natural resources, our land, and our water. This video proves liberation is love.
A JUST TRANSITION COMES IN MANY FORMS
Reinvesting in Our Communities and a Just Transition
Through our Reinvest in Our Power efforts, CJA works toward both divestment from the extractive economy and reinvestment in community.
We are thrilled to have officially launched the CJA Our Power Loan Fund this year! The loan fund's purpose is to bring technical assistance and non-extractive financing to Just Transition projects, to support the creation of local loan funds, and to provide political and popular education that build community capacity to govern community wealth. The first round of prioritized Just Transition projects and potential loan recipients are supported by the following CJA members. We are grateful for the opportunity to partner with these emerging and visionary enterprises:
Donate to CJA to support a shift in community-led Just Transition strategies.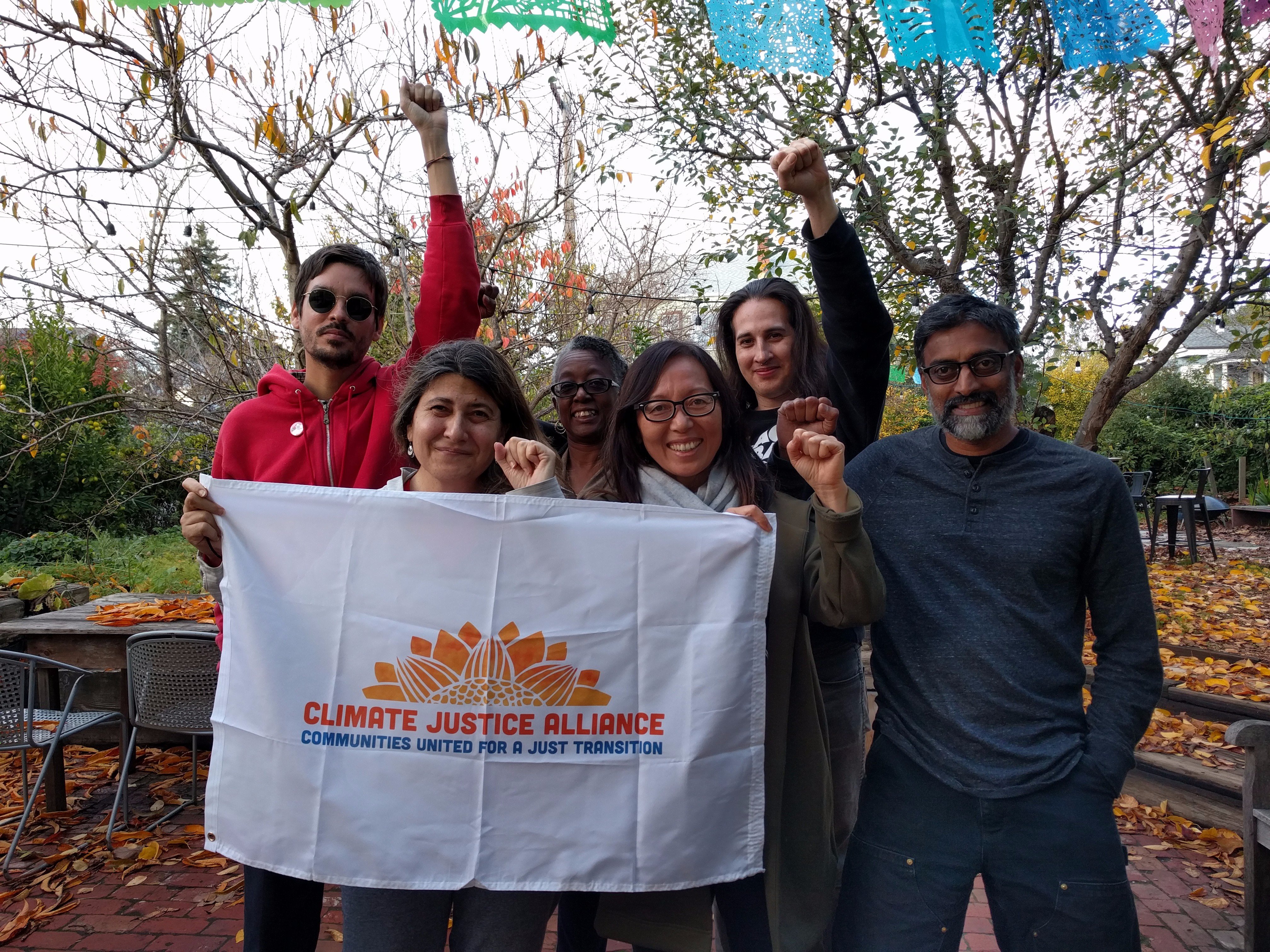 Loan Fund Meeting
Working toward Food Sovereignty    
Nearly a quarter of CJA's membership are practicing Food Sovereignty as an essential part of a Just Transition vision. Through Agroecology—a science, practice, and movement centered on growing food in harmony with ecological systems—CJA members are reclaiming traditional and cultural farming knowledge, rebuilding local food systems, and asserting their rights to land and capital in order to farm sustainably and feed their communities.
In contrast to healthy, sustainable food systems, CJA member Farmworker Association of Florida has raised public awareness on the the challenges that farmworkers face at the intersections of immigrant rights, rising temperatures, climate disasters, and health and safety conditions under industrial agriculture.
Another highlight around Food Sovereignty and Agroecology practices came from our member Organización Boricuá in Puerto Rico. One year after Hurricane María made landfall, many families continue to face uphill battles in achieving a true and Just Recovery of their homes and livelihoods. Amidst this chaos, Boricuá has organized a network of Agroecology support brigades across the islands (as well as provided direct funds), which helped numerous communities recover from impacts of the storm much faster due to the resilient production of a diversity of crops.
Demanding Just Recovery Approaches in the Face of Bigger and More Frequent Climate Disasters
Late 2017 and all through 2018, we were witness to unprecedented climate disasters with little to no government assistance. Houston, Puerto Rico, North Carolina, and Florida are still recovering from these storms. In supporting our members in their recovery efforts, CJA was able leverage its power as an alliance. Action Solidarity has been a powerful strategy that builds both resilience and community capacity to bear the onslaught of disaster capital, predatory pricing, and shameful land grabs. CJA member Movement Generation shows us how Just Recovery resists disaster capitalism at every step.
Through our Just Recovery work, and specifically the OurPowerPR campaign, we have witnessed and experienced the efficacy of people-to-people solutions—to rebuild and reconstruct communities guided by principles of Environmental Justice, while simultaneously calling for a break in rebuilding forms of extraction and challenging the various forms of systemic oppressions we face on a daily basis.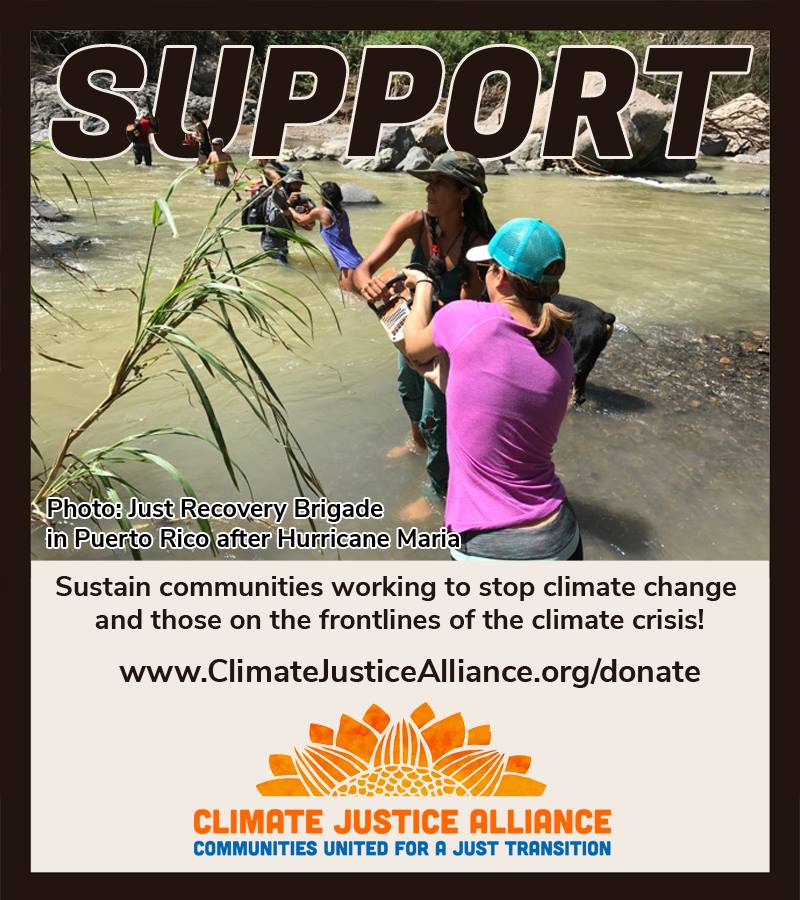 Building the Bigger We
In partnership with allied progressive movements, CJA builds bridges across sectors, issues, and geography to support an intersectional approach in forming a truly regenerative economy. We call it Building the Bigger We.
In early September, as part of It Takes Roots, we organized Solidarity 2 Solutions Week in San Francisco where we successfully challenged the corporate climate scams being promoted at  California Governor Jerry Brown's Global Climate Action Summit (GCAS). We mobilized, marched, and took mass direct action to expose disaster capitalist schemes like pollution trading and forest carbon offsets. We shared place-based knowledge to further Just Transition strategies in energy democracy, Indigenous land rights, food sovereignty, zero waste, public transportation, universal healthcare, affordable housing, and ecosystem restoration.
We drew a clear line in the sand—between the billions of dollars of public subsidies offered to multinational corporations to continue destroying the planet and the community-led frontline solutions capable of tackling the ecological crises. In doing so, we broke through the media in bigger and more exciting ways than ever before.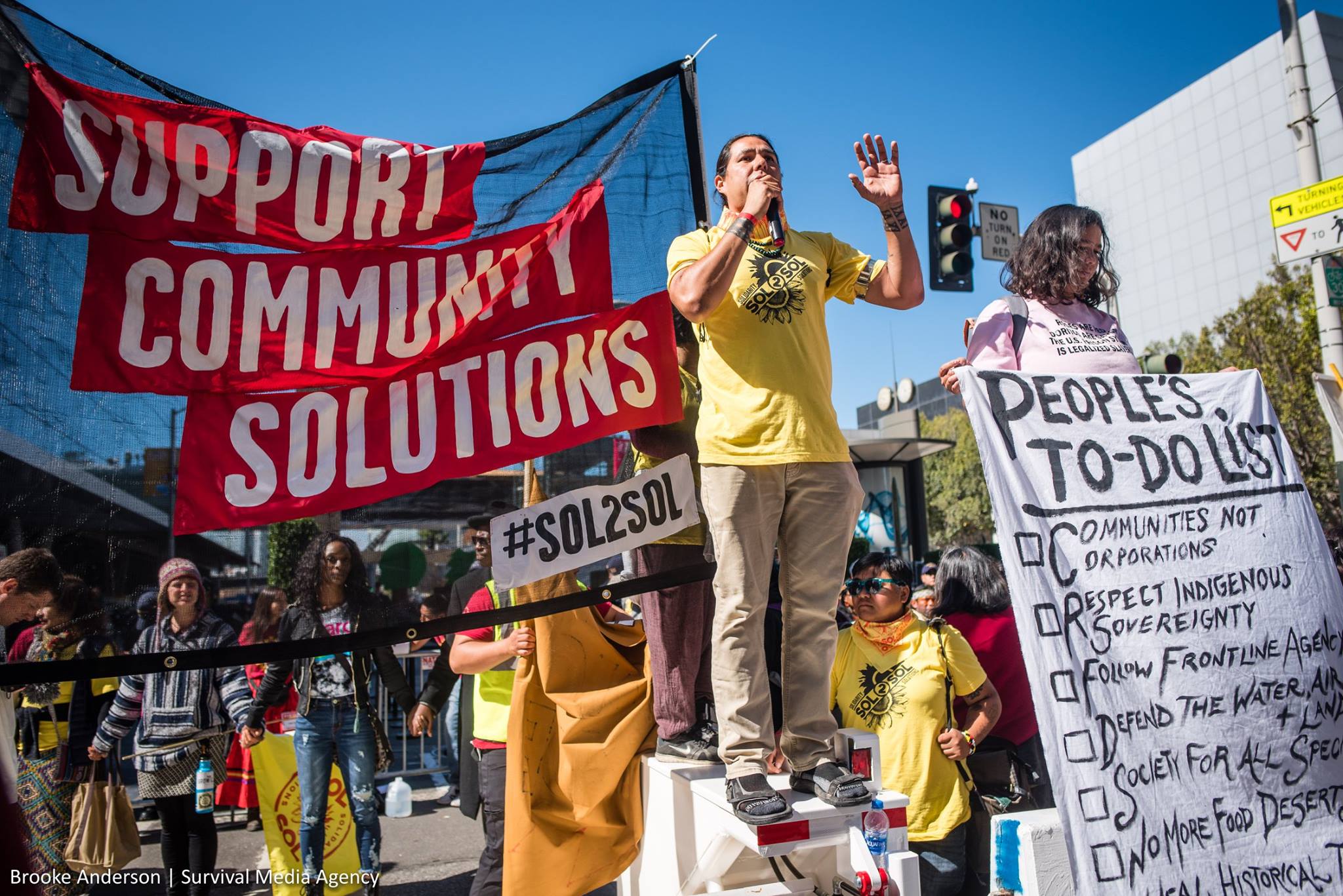 We are shifting the global climate debate toward the arc of justice. The lines we drew are unveiling reputational risk for investors who are now questioning their previous interest in carbon markets and corporate technology schemes.
What's next?
In late March, CJA will host its Member Convening in Albuquerque, New Mexico on March 28-30, 2019. We'll gather, celebrate, and collectively plan for 2020 and beyond.
There are looming battles on geoengineering, multiple dirty energy infrastructure conflicts, as well as emergent opportunities to inform progressive initiatives like the Green New Deal, in which CJA members will have a voice.  
We will continue to be bold and visionary in 2019. We look forward to deepening and accelerating our work on making Just Transition real on the ground. Time is urgent.
Become a monthly supporter to CJA and be part of the solution!
The strength of CJA is measured by the interconnected strength of us all.