Demand Climate Justice and Frontline Community Solutions in the Debates
Centering the Frontlines
Extractive industrial systems are eroding humans' primary means of existence on the planet. The presidential debates generate a lot of national attention, and the candidates as well as the broader public need to realize that frontline, community-based organizations have the solutions to the interlinked economic, democratic and climate crises. Effective climate solutions honor human rights and the rights of nature. Localized democracies that champion community rights to energy, land, water, and food sovereignty are the best answers to combating exploitation.
CJA member groups in the cities where the presidential primary debates are taking place, are bringing Climate Justice and frontline community solutions into the public discourse. We are inviting candidates for President to learn about place-based solutions that serve to simultaneously decarbonize, detoxify, demilitarize and democratize our economy through critical strategies such as Indigenous land rights, food sovereignty, zero waste, public transportation, ecosystem restoration, universal healthcare, worker rights, energy democracy, housing rights, racial and gender justice, and economic relocalization.
Countdown to the Presidential Elections
Where do the 2020 candidates stand on Climate Justice?
Data For Progress created a rubric for the Democratic candidates' climate policy proposals to date, based on features of the Green New Deal Resolution for comparison.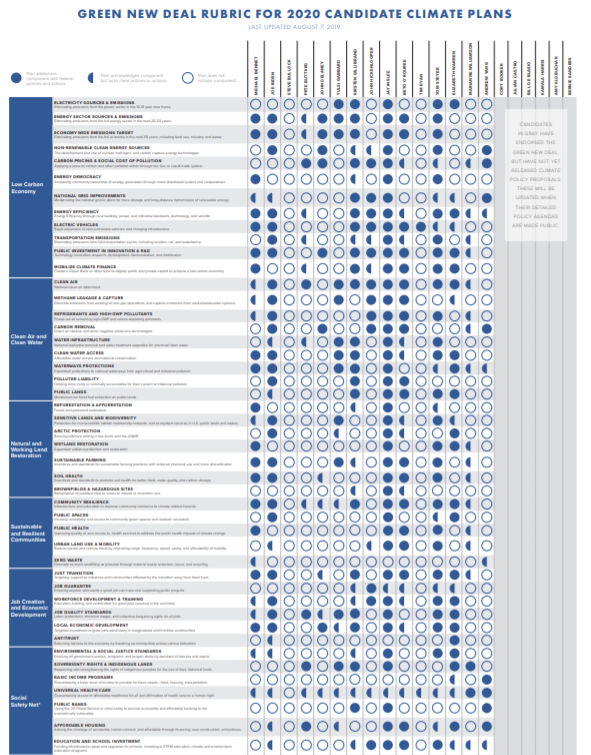 Schedule
1st Democratic Debate  June 26-27, 2019, Miami, FL
Netroots Nation  July 11-13, 2019, Philadelphia, PA
2nd Democratic Debate  July 30-31, 2019, Detroit, MI
Native American Presidential Forum  Aug. 19-20 , Sioux City, IA
CNN Climate Crisis Town Hall  Sept. 4, 2019, New York City, NY
3rd Democratic Debate  Sept. 12-13, 2019, Houston, TX
MSNBC Climate Forum  Sept. 19-20, 2019, Washington, DC
4th Democratic Debate Oct. 15, 2019, Westerville, OH
People's Presidential Forum  Oct. 26, 2019, Las Vegas, NV
5th Democratic Debate Nov. 20, 2019, TBD, GA
Climate Justice Alliance Statements
So far, CJA released statements on the climate policy proposals by these candidates. Click on the photo to read the statement.
Democratic Primary Debate in Houston, Texas
The third debate, hosted by ABC News and Univision, took place from September 12-13, 2019 in Houston, Texas. To participate, candidates needed at least 2 percent in four national polls and donations from at least 130,000 individual donors.
Houston is one of the pollution capitals of North America, where low-income communities of color in Houston's Eastern end are exposed to Environmental Racism including higher levels of pollution from nearly 30 refineries, chemical plants, sewage treatment facilities, and hazardous waste sites.

Houston is also home to the CJA member group Texas Environmental Justice Advocacy Services (t.e.j.a.s.), which is dedicated to providing community members with the tools necessary to create sustainable, environmentally healthy communities by educating individuals on health concerns and implications arising from environmental pollution. t.e.j.a.s. offers community building skills and resources for effective community action and greater public participation.
The Native Organizers Alliance, a national Native organizing and training network and a member group of the Climate Justice Alliance, co-hosted the nation's first-ever Native American presidential forum focusing entirely on issues of national concern to First Americans. 
At the Frank LaMere Native American Presidential Forum @SenWarren says to Indigenous People and Tribal Nations, "I know that I have made mistakes. I am sorry for harm I have caused. I have listened and I have learned— a lot." pic.twitter.com/ZMX7VZvz3t

— NDN Collective (@ndncollective) August 19, 2019
Make Detroit the Engine of a Green New Deal
The Frontline Detroit Coalition showed the presidential candidates what grassroots organizing power looks like, with a rally and march on the first day of the Democratic primary debates.
From July 30-31, 2019, the Democratic presidential candidates converged on Detroit, for their second primary debate. Detroit has been home to some of the worst environmental injustices in the U.S., while also being a historic hub for visionary, black liberation struggles and organized resistance. The CJA member groups East Michigan Environmental Action Council and the Michigan Environmental Justice Coalition, who have been leading voices for environmental, economic and racial justice, took to the streets as part of the Frontline Detroit Coalition. Following a spirited rally with speakers and musicians at Cass Park, about 2,000 activists marched downtown and brought the demands for Environmental Justice within earshot of the Democratic presidential debate at the historic Fox Theatre.

Read the Frontline Detroit Call to Action
From the Civil Rights Movement and the fight for clean, affordable water to the Worker Rights Movement and fight for economic solidarity, Detroit's historic and living movements have served as a real engine for many national movements.
The story of Detroit mirrors many stories across our land. Corporate interests have captured our democracy and disinvested in our communities at the expense of everyone else, especially Black and Brown communities. Today Detroit, Flint and other rural and urban communities across the state have been deemed "sacrifice zones," with pollution dumped in our backyards, our schools closed, our homes foreclosed, and our democratic rights violated by emergency managers, all while billionaires get tax breaks for new stadiums and corporate development.
Elected officials supporting the ongoing theft of our lands, public resources, our homes, and our pocketbooks have refused to take action as they endanger the futures of our children with ecological, climate, and economic crises.
To tackle these challenges, Detroit needs what people need everywhere – good, clean, local, union jobs, affordable and clean water, clean air, and a livable future for all of us and our loved ones to thrive. We need to build a fair, green economy that serves the needs of people and planet (human need, not corporate greed). We need to deepen, broaden and strengthen our democracy and people power.
The people of Detroit are ready to build this better future together – It's time for all local, state, federal and tribal governments and community leaders to stand with us.
Join us as we work to make Detroit the Engine of the Green New Deal.
We will have ASL interpreters at the rally from 4pm – 6pm.
Hosted by the Frontline Detroit Organizing Committee*
*East Michigan Environmental Action Council, Michigan Environmental Justice Coalition, We The People Michigan, 48217, Detroit People's Platform, Breathe Free Detroit, Greater Detroit DSA, SEIU, Sierra Club, Next Gen Michigan, Sunrise, and the Climate Justice Alliance.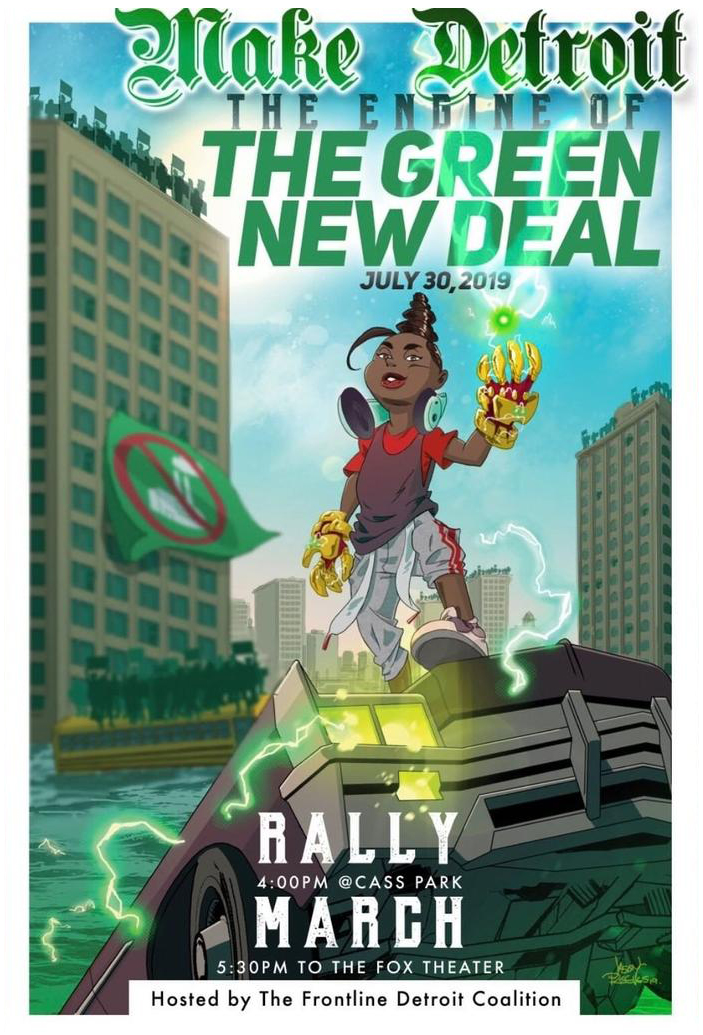 'I want a breathable future for my grandchildren and their children.' — Detroit residents are calling on 2020 candidates to visit the city's most polluted neighborhoods and see firsthand how climate change impacts communities of color pic.twitter.com/waOlm0g1Pn

— NowThis (@nowthisnews) July 30, 2019
#Visit48217
Frontline community activists asked the candidates to visit Detroit, MI 48217, the most polluted ZIP code of Michigan. The candidates were invited to listen to those who are hit hardest by environmental racism and climate change.
Presidential Candidates and CJA at Netroots
Senator Elizabeth Warren, Senator Kirsten Gillibrand, Governor Jay Inslee, and former HUD Secretary Julián Castro attended the presidential forum at Netroots Nation, an annual gathering of nearly 4,000 progressive activists, that took place in July 2019 in Philadelphia.
The Climate Justice Alliance (CJA) organized a panel about frontline perspective on the Green New Deal moment with Zakia Elliott,  the Coordinator of Philadelphia Climate Works, Elizabeth Yeampierre, the Executive Director of UPROSE, and co-chair of CJA, and Anthony Giancatarino, a fellow at the Movement Strategy Innovation Center. 
CJA's Anthony Rogers-Wright moderated the panel and talked about how movements—and candidates—can fight for frontline communities by scaling up and out solutions that are already working.
New Florida Majority Presidential Survey
A majority women and people of color from CJA member group New Florida Majority ranked candidates and issues after the Democratic debate in Miami, Florida.
New Florida Majority, an independent organization dedicated to increasing the political power of marginalized communities in Florida, released its first in-house presidential survey of over 500 members and supporters who ranked the issues they care about and the Democratic candidates.
The survey was open between June 28 and July 12, right after the first Democratic presidential debate, and collected responses from a total of 512 individuals who are part of the organization's base of supporters statewide. More than half of the community members identified as Black, Latinx or Other Non-White (59%) and a vast majority identified as women (65.3%), which are considered key voting blocs for Democrats.
Click here to check out the topline results from the New Florida Majority survey.
Participating CJA Members