CJA and the Green New Deal
Centering Frontline Communities in the Just Transition
Decades of Indigenous/frontline wisdom and organizing, and a myriad of contributions from the climate justice movement have paved the way to the current Green New Deal moment.  Climate Justice Alliance members have made local versions of the Green New Deal a reality from New York City to Oregon, centering traditional ecological and cultural knowledge and creating pathways for a regenerative future. It's imperative that we build off of these community-based, frontline-led victories,  and that we place frontline communities at the center of the solutions equation.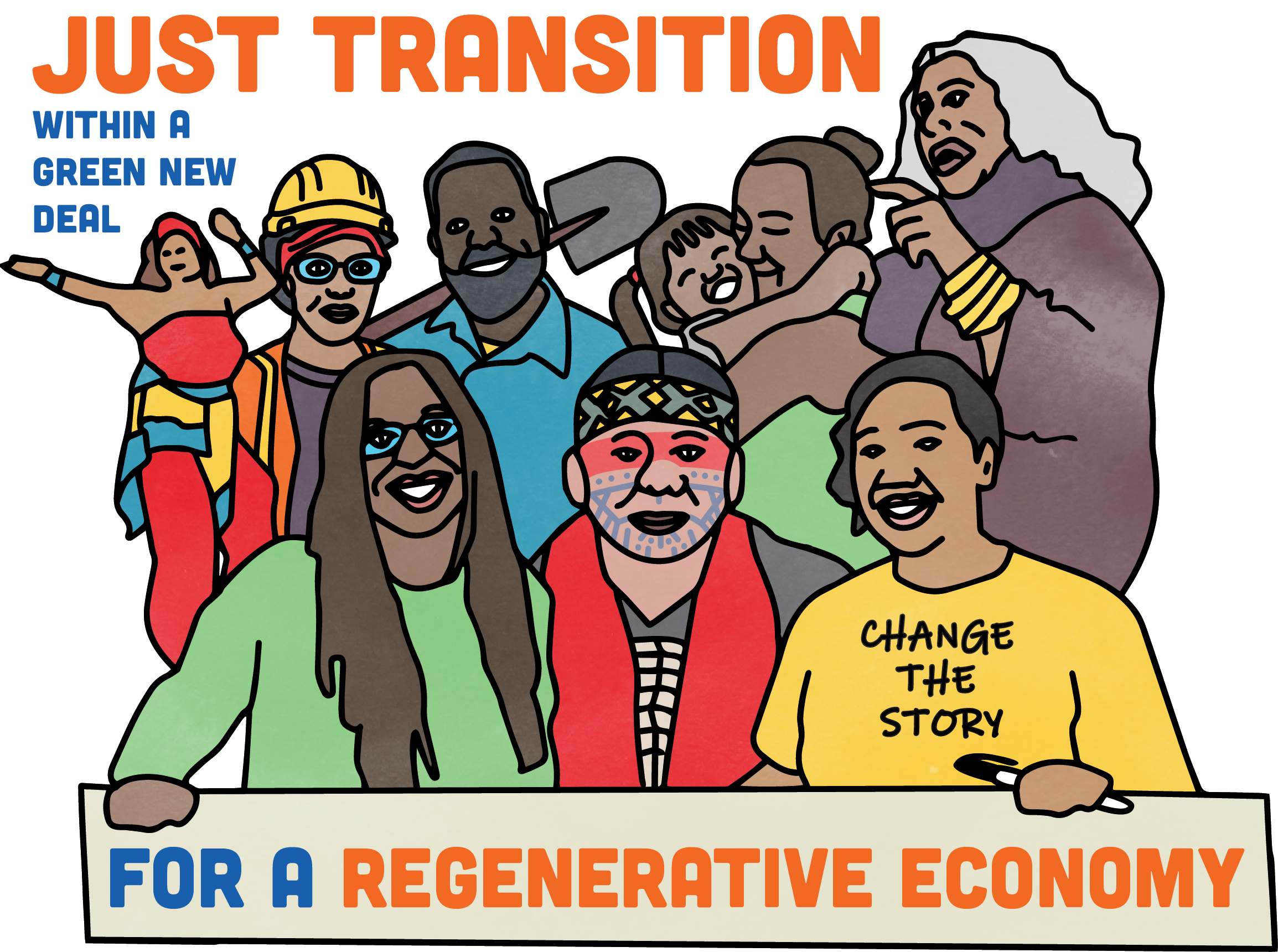 "The Climate Justice Alliance welcomes the bold Green New Deal initiative from Rep. Alexandria Ocasio-Cortez and other Members of Congress; however, to truly address the interlinked crises of a faltering democracy, growing wealth disparity and community devastation caused by climate change and industrial pollution, we must reduce emissions at their source. Allowing for neoliberal constructs such as Net Zero emissions, which equate carbon emission offsets and technology investments with real emissions reductions at source, would only exacerbate existing pollution burdens on frontline communities. Such loopholes for carbon markets and unproven techno-fixes only serve to line the coffers of the polluting corporations, while increasing (not reducing) harm to our communities. Our communities can no longer be used as sacrifice zones."
CJA Frontline Delegation
In January 2019, a Climate Justice Alliance frontline delegation converged on Washington, DC, to share our vision for a Just Transition and the Green New Deal with members of Congress.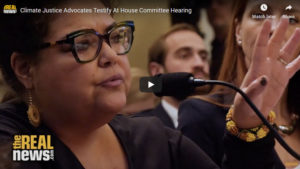 CJA co-chair Elizabeth Yeampierre testified in Feb. 2019 in front of the House Committee on Natural Resources. The hearing was titled "Climate Change: The Impacts and the Need to Act."

Community Engagement
Based on our understanding that impacted communities build power through organizing, and that visionary policy solutions develop and evolve in response to the demands from organized communities, frontline CJA member groups sponsored local climate policy events across the country. These are some of the local events that pushed for policy development and organizing that is inclusive and advances long-existing work towards climate, racial and economic justice from the local level up.  
CJA Statement to the New Consensus
Miya Yoshitani, the Executive Director of Asian Pacific Environmental Network (a founding member of the Climate Justice Alliance) along with John Washington, Organizing Co-Director for Push Buffalo read a statement at the New Consensus Policy Meeting and demanded changes to the agenda in order to center frontlines in a peoples plan for the Green New Deal. Click here to read the full CJA statement.
Green New Deal in the News
Justice for all?  The Green New Deal may be falling short on its environmental justice promise, Grist, Feb 11, 2019
Green New Deal: Ocasio-Cortez unveils bold plan to fight climate change, The Guardian, February 7, 2019

The Green New Deal is here, and everyone has something to say about it, Grist, Feb 7, 2019
Something Old, Something New
The Green New Deal is touching up its (grass)roots, Grist,  Jan 9, 2019
What It Will Take to Build Union Support for the Green New Deal – Despite the AFL-CIO, In These Times, March 18, 2019
Fossil Fuel Industry, Corporate Lobbyists & Neoliberal Economists Push Carbon Pricing Schemes to Attack Green New Deal
Eyes on the Ties, by Derek Seidman on March 20, 2019
Building a Just Transition
Green New Deal Resolution
Read the Resolution that was introduced in February 2019 by Rep. Ocasio-Cortez and Sen. Markey.
Funders
To Win a Green New Deal, Fund Frontline Communities First!
Organizers
Are you ready to organize for a Just Transition in your community?
Support the Alliance
Help us direct money and resources
to frontline communities
Grow With Us
Be part of the community by signing
up to our mailing list