COP26 – Glasgow, Scotland – November 1-12, 2021
It Takes Roots COP26 Frontline Delegation in Glasgow, Scotland
When Climate Justice Alliance (CJA) formed in 2013 to create a new center of gravity in the climate movement, it was also due to the recognition that there was a need to strengthen democratic representation of frontline community leadership at national climate movement tables, as well as in international spaces such as the United Nations Climate Change conferences.
The yearly UN conferences are held in the framework of the United Nations Framework Convention on Climate Change (UNFCCC), which is composed of governing bodies, subsidiary bodies, and working groups under which key areas of climate action are being negotiated. Since the creation of the UNFCCC, two key agreements have overseen the climate commitments of countries that have adopted them: the Kyoto Protocol (1997) and the Paris Agreement (2015). The conferences serve as the formal meeting of the UNFCCC Parties (Conference of the Parties, COP) to assess progress. The main agenda item for COP26 is to finalize "implementation guidelines" for Article 6 of the Paris Agreement, which has to do with "cooperative approaches" to tackling climate change. At COP24 in Katowice, Poland and at COP25 in Madrid no agreement could be found on the contentious issue of carbon markets.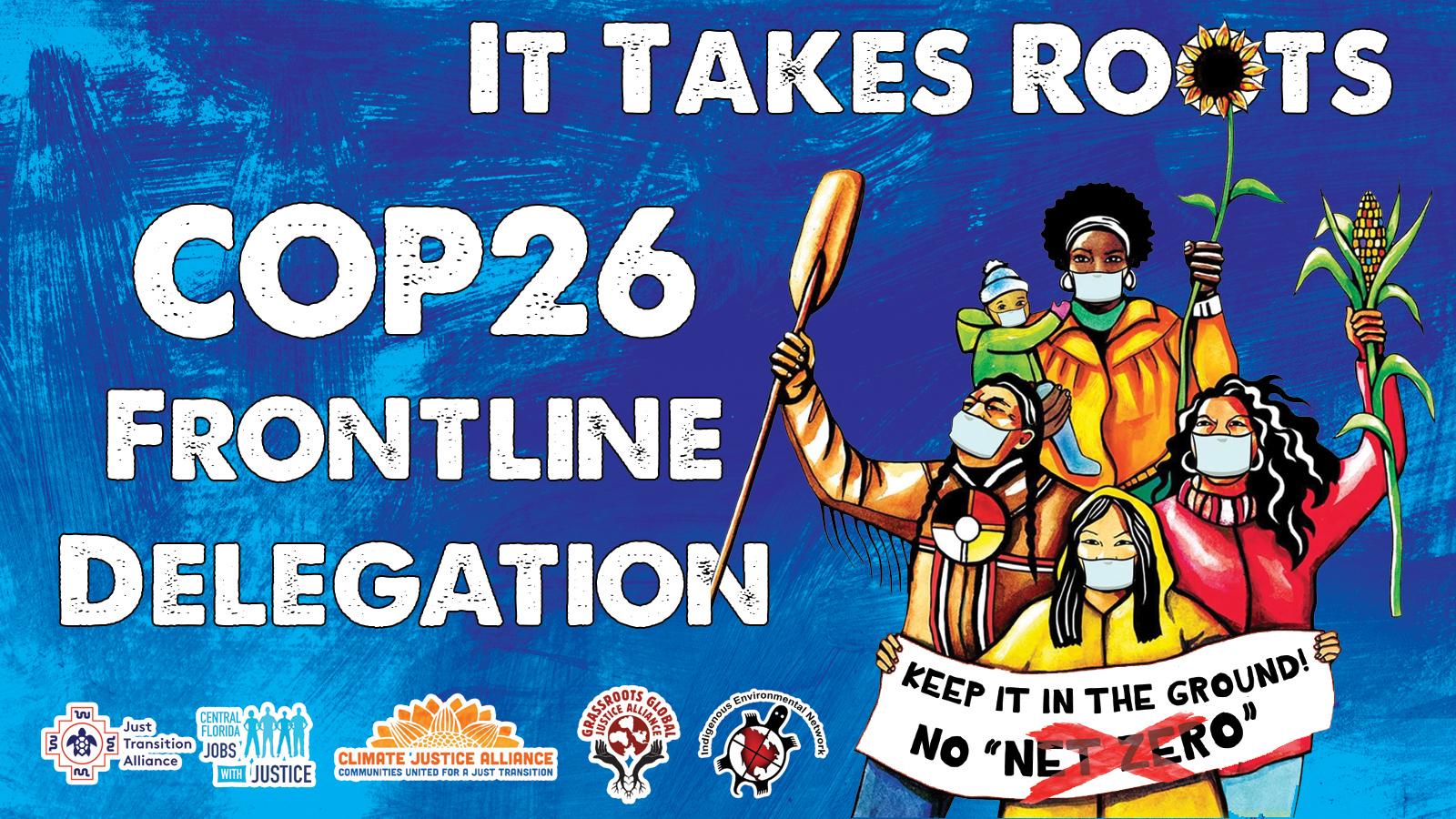 Climate Justice Alliance member groups such as Indigenous Environmental Network (IEN), Grassroots Global Justice Alliance (GGJ), Just Transition Alliance (JTA), Jobs with Justice (JwJ), and others have played pivotal roles in strategic interventions during the conferences to demand strong international agreements that protect and benefit the people most impacted by the climate crisis. Together, we speak truth to power as we confront global leaders, help redefine climate leadership, and ensure that community voices are heard at the highest levels of decision making to keep false solutions off the table.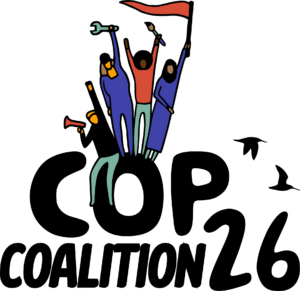 ​In order to achieve the policy shifts we need in these UN climate conferences, even the best inside strategies are not strong enough if we don't organizing powerful, grassroots pressure on the outside as well. Climate Justice Alliance is in unity with blossoming social movements across the globe, led by the people most impacted by the climate crisis. On November 6, we are taking to the streets as part of the Global Day for Climate Justice. CJA is also participating in the People's Summit, that is being organized by the COP26 Coalition. We are pressuring governments for more meaningful action, while implementing our own real solutions on the ground and planning for how vulnerable communities can best survive severe impacts of climate change.
Actions and Events
We staged protests and actions inside and outside of COP26 and took over the hallways to make our voices heard.
We denounced false solutions like carbon markets and Net Zero, neoliberal concepts that are being pushed by fossil fuel lobbyists and climate profiteers.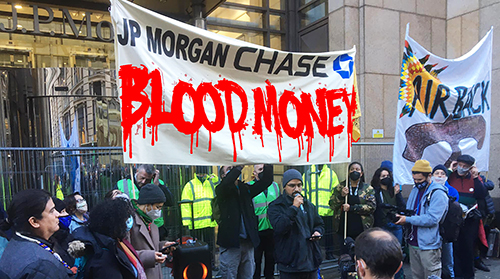 Indigenous community members gathered to highlight the disturbing correlation between Missing and Murdered Indigenous women, queer, trans, and two-spirit peoples and the resource extraction industry.
Article 6 of the Paris Agreement does not recognize the sacred act of caring for Mother Earth and our communities by eliminating carbon emissions and putting an end to fossil fuel extraction. Instead, it puts forward a trade agreement.
The RBGND centers Black liberation in the global climate struggle and addresses the impact of climate change and environmental racism on Black communities. An RBGND delegation is on the ground at COP26 in Scotland to stand in solidarity with the global south and to advance advocacy around climate reparations with Black communities everywhere.
Why are polluters so eager to pledge net zero?
COP26 has beein dubbed the Net Zero COP. We heard net zero pledges everywhere—from transnational corporations, polluting governments, and even some big conservation NGOs, all parading carbon offset schemes and pledging to reach net zero targets.
Net zero is an illusion—a smoke screen—a last ditch effort to sell a fantasy, buy time, and profiteer off the very disaster they are creating.
The "net" in net zero refers to the math equation that polluters use to pretend that they can offset and balance the harm of the pollution they are emitting into the atmosphere. These powerful players use "net zero" to disguise climate inaction and continue to pollute fenceline Black, Brown and Indigenous communities, while colonizing the forests of the Global South. In this way, Net Zero is also green colonialism.
As the U.S. re-enters the Paris Agreement, our frontline movements demand that the Biden Administration make actual emissions reductions at the source of pollution. No Net Zero—Keep It In the Ground!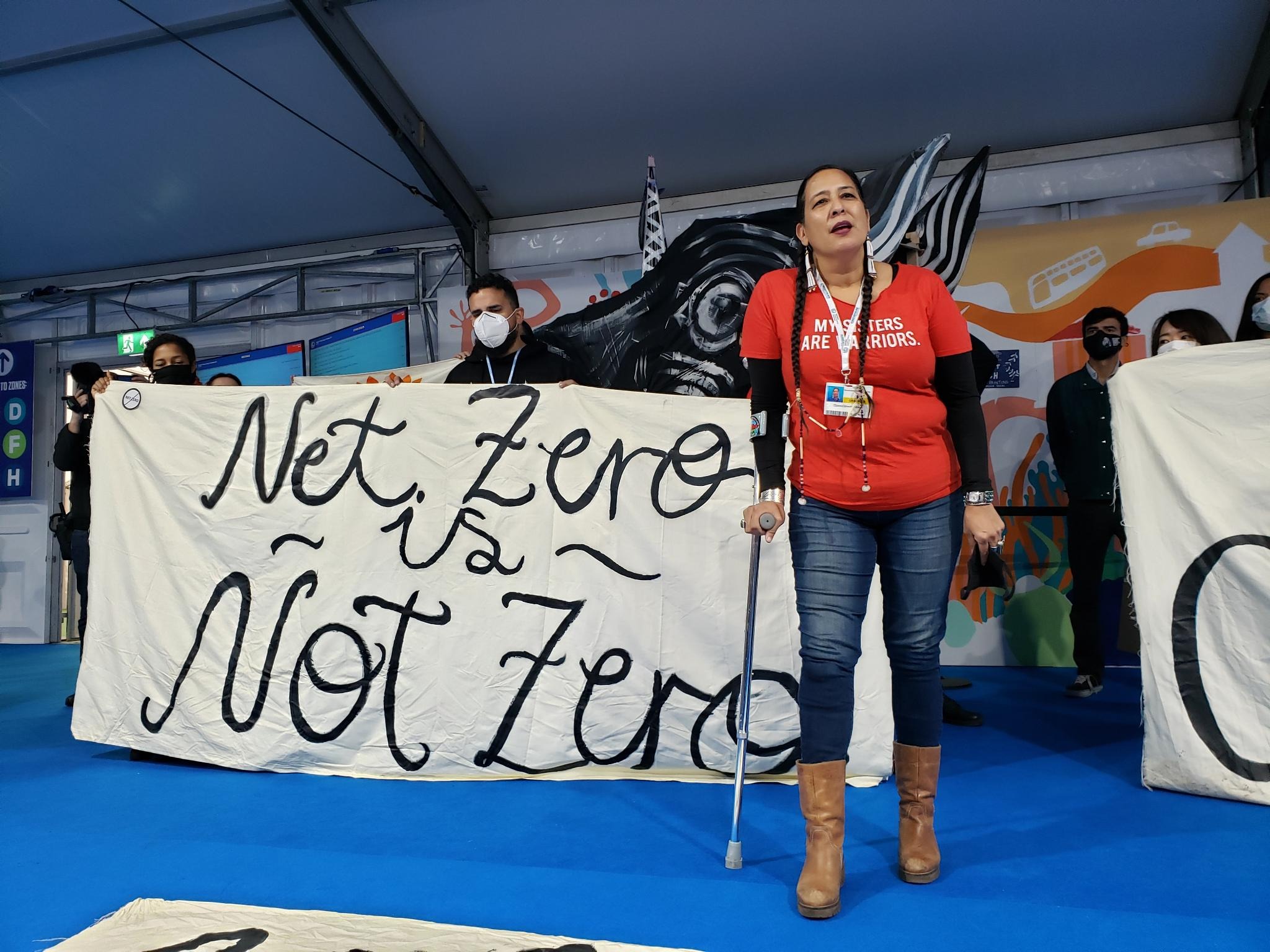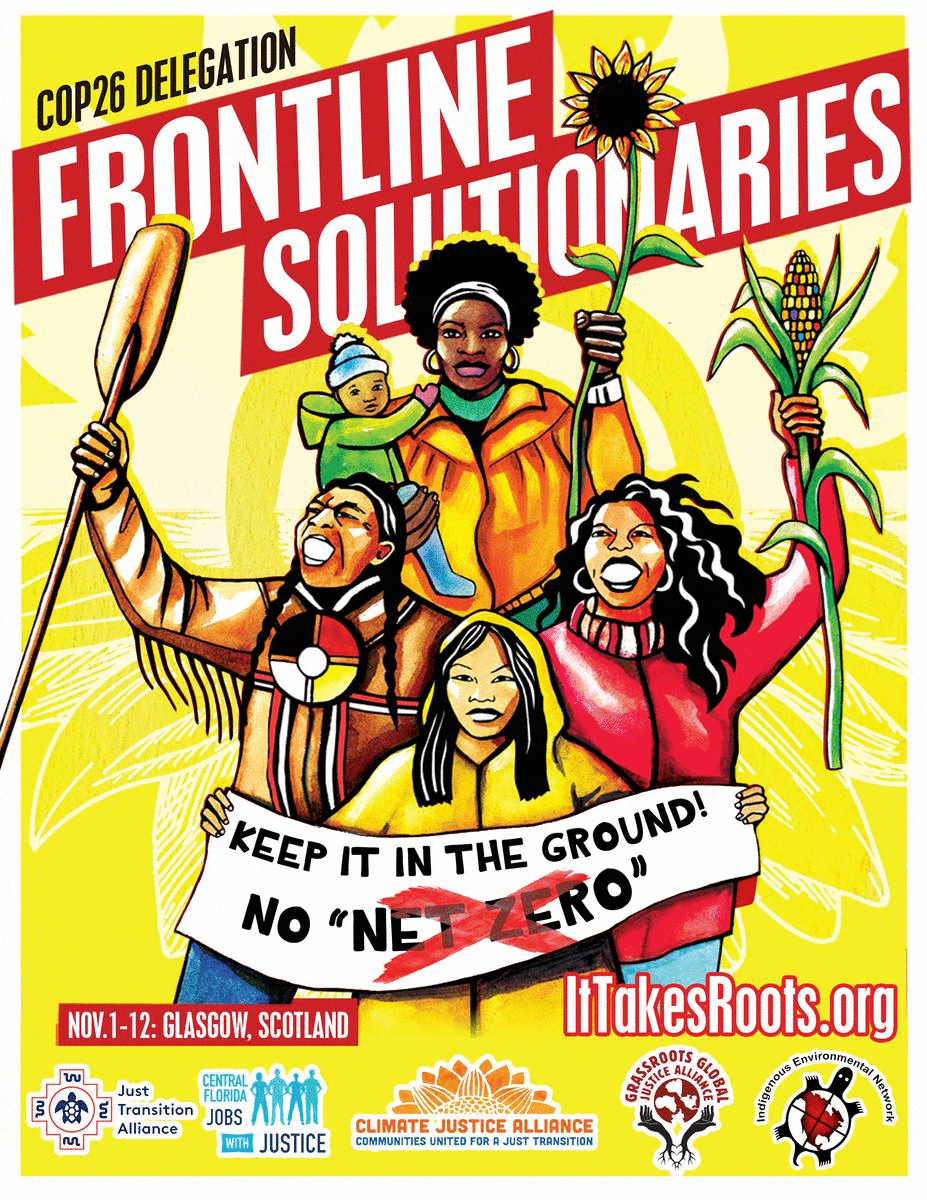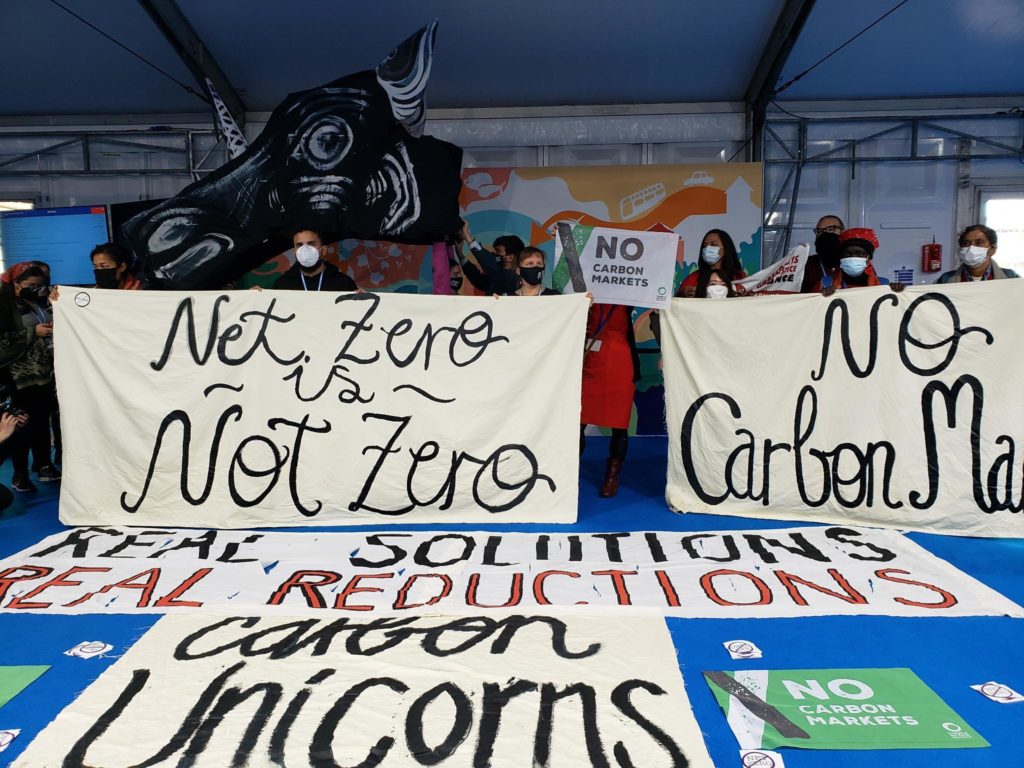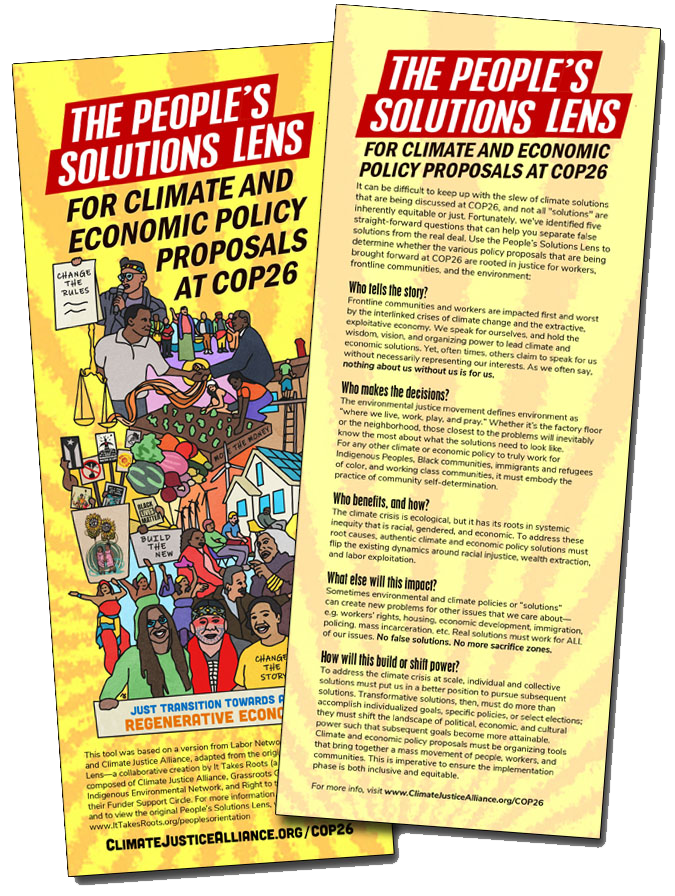 The People's Solutions Lens
for Climate and Economic Policy Proposals at COP26
It can be difficult to keep up with the slew of climate solutions that are being discussed at COP26, and not all "solutions" are inherently equitable or just. Fortunately, we've identified five straight-forward questions that can help you separate false solutions from the real deal. Use the People's Solutions Lens to determine whether the various policy proposals that are being brought forward at COP26 are rooted in justice for workers, frontline communities, and the environment:
1Who tells the story? Frontline communities and workers are impacted first and worst by the interlinked crises of climate change and the extractive, exploitative economy. We speak for ourselves, and hold the wisdom, vision, and organizing power to lead climate and economic solutions. Yet, often times, others claim to speak for us without necessarily representing our interests. As we often say, nothing about us without us is for us.
2Who makes the decisions? The environmental justice movement defines environment as "where we live, work, play, and pray." Whether it's the factory floor or the neighborhood, those closest to the problems will inevitably know the most about what the solutions need to look like. For any other climate or economic policy to truly work for Indigenous Peoples, Black communities, immigrants and refugees of color, and working class communities, it must embody the practice of community self-determination.
3Who benefits, and how? The climate crisis is ecological, but it has its roots in systemic inequity that is racial, gendered, and economic. To address these root causes, authentic climate and economic policy solutions must flip the existing dynamics around racial injustice, wealth extraction, and labor exploitation.
4What else will this impact? Sometimes environmental and climate policies or "solutions" can create new problems for other issues that we care about— e.g. workers' rights, housing, economic development, immigration, policing, mass incarceration, etc. Real solutions must work for ALL of our issues. No false solutions. No more sacrifice zones.
5How will this build or shift power? To address the climate crisis at scale, individual and collective solutions must put us in a better position to pursue subsequent solutions. Transformative solutions, then, must do more than accomplish individualized goals, specific policies, or select elections; they must shift the landscape of political, economic, and cultural power such that subsequent goals become more attainable. Climate and economic policy proposals must be organizing tools that bring together a mass movement of people, workers, and communities. This is imperative to ensure the implementation phase is both inclusive and equitable.
COP25 and the Cumbre de los Pueblos​
The 25th UN Conference of Parties (COP25) took place from Dec. 2-13, 2019 in Madrid, Spain. Our work at COP25 included pushing back against Article 6 of the Paris Agreement, which supports Carbon Pricing and offsets, exposing the threat of Geoengineering, building for a Just Transition, and coordination with others around Frontline Green New Deal work.
COP25 was initially scheduled to take place in Chile. However, a massive popular feminist and student uprising against neoliberalism, forced the Chilean government to move COP25 to Spain. Part of our delegation traveled to Chile nonetheless to stand with the courageous Chilean social movements, and to join the Cumbre de los Pueblos.
Read about the goals and the the field notes from the two delegations, watch the joint webinar and an interview with Paola of NegroCentricxs. Indigenous peoples from all parts of the world gathered in Madrid for the Indigenous MINGA Summit, which took place parallel to COP25. An Indigenous Climate Letter was delivered to selected leaders of the nearly 200 nations. Check out the Media Hits
It Takes Roots threw down with the youth of SustainUS and organized an intervention during the US administration panel, which pushed for the continual use of fossil fuels and dirty energy. We interrupted Trump's Energy advisor, Wells Griffith, with laughter then chanted "Keep It In The Ground" as we brought frontline speakers upfront.
Check out videos, photos, the People's Demands, and more info from the actions and events of the 2018 It Takes Roots delegation at COP24 in Katowice, Poland:
It Takes Roots is a multiracial and inter-generational effort led by women and gender oppressed Indigenous Peoples, Black, Latinx, Asian Pacific Islander, and poor white communities on the frontlines of racial, housing and climate justice across Turtle Island. The collaboration began during the organizing for the Peoples Climate March in 2014 and has since continued to build a Visionary Opposition.
Today It Takes Roots has alliance members in 200 organizations and in more than 50 states, provinces and Indigenous territories, nationwide and in Canada, Guam and Puerto Rico.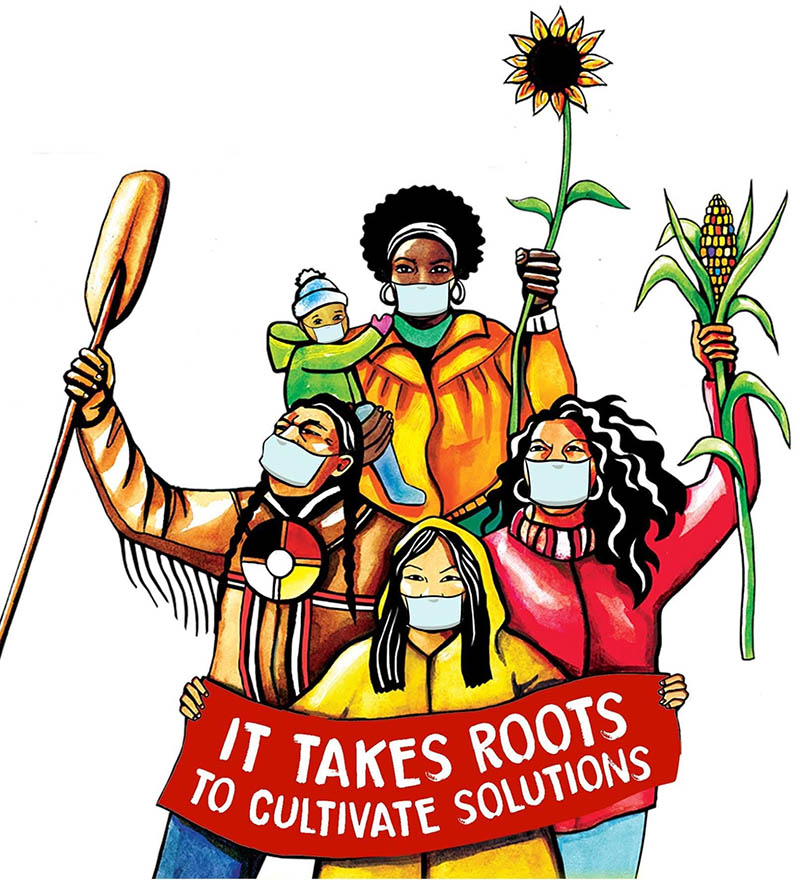 Participating CJA Members