CJA and the Green New Deal
Centering Frontline Communities in the Just Transition
Decades of Indigenous/frontline wisdom and organizing, and a myriad of contributions from the climate justice movement have paved the way to the current Green New Deal moment.  Climate Justice Alliance members have made local versions of the Green New Deal a reality from New York City to Oregon, centering traditional ecological and cultural knowledge and creating pathways for a regenerative future. It's imperative that we build off of these community-based, frontline-led victories,  and that we place frontline communities at the center of the solutions equation.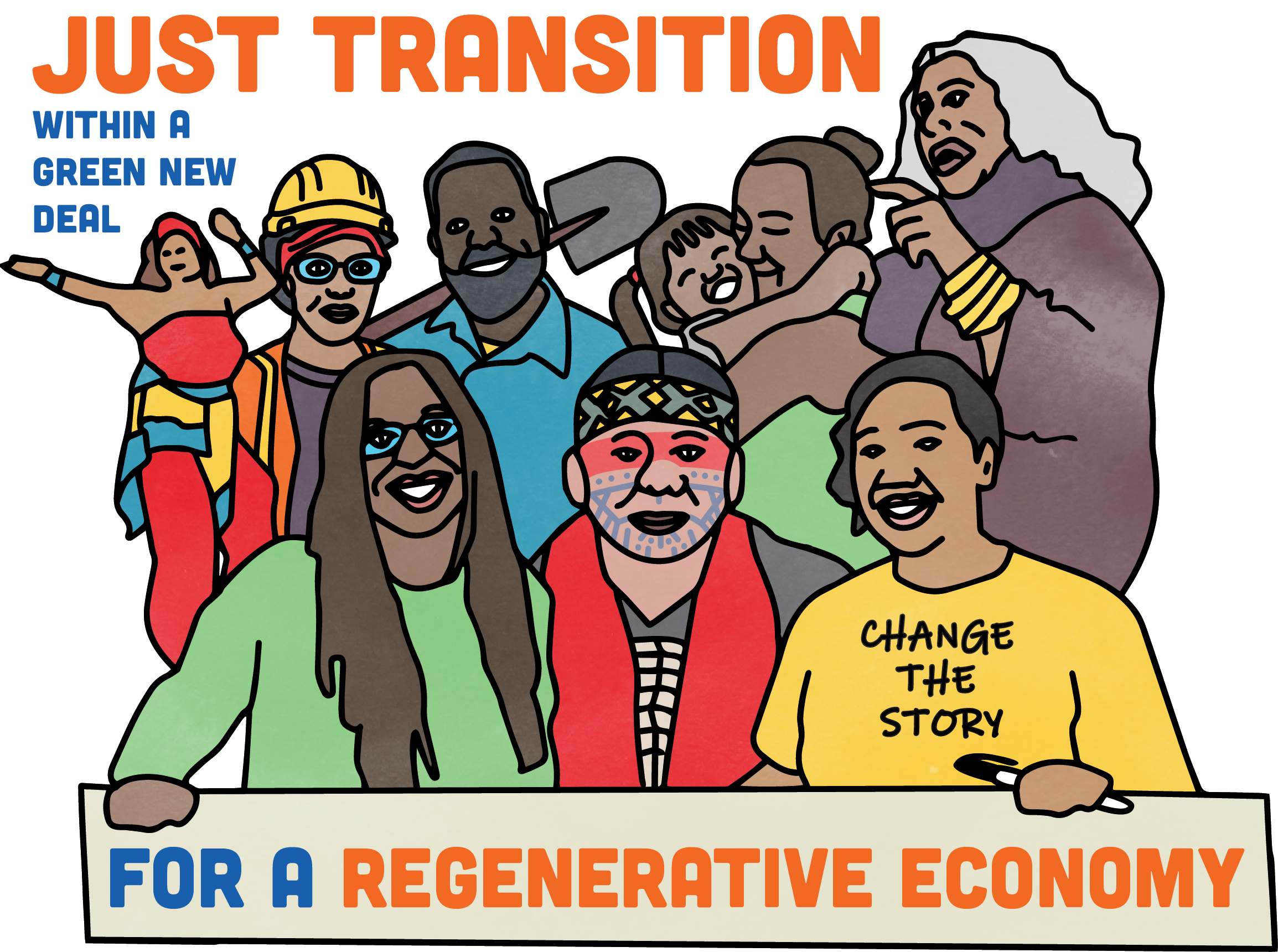 The Frontlines Are Taking the Lead
From the Democratic Primaries to the first 100 Days of the Biden/ Harris Administration, Climate Justice Alliance members (from Detroit, Houston, Miami, Philadelphia, Indian Country and throughout the US), made their mark on the 2020 elections by centering frontline community solutions. CJA members hosted candidate forums, organized rallies and direct actions, engaged with community groups and lawmakers on new policies, and developed visionary projects from Brooklyn's Sunset Park to New Jersey.
Together with a broad range of allies, we launched new formations such as the People's Bailout, the United Frontline Table, Build Back Fossil Free, and the Green New Deal Network to win bold executive orders, push back on bad cabinet choices, introduce legislation, and lay the groundwork for real solutions to the interlinked economic, democratic and climate crises.
Climate Justice Alliance' Frontline Policy Coordinator Kari Fulton joined Rep. Alexandria Ocasio-Cortez , Senator Ed Markey and other congressional and movement allies in Washington DC in April 2021 to reintroduce the Green New Deal resolution (click here to watch the full press conference video).

Green New Deal for Public Housing
In November 2019, Climate Justice Alliance participated in the roll out of the Green New Deal for Public Housing Act with Senator Bernie Sanders, Representative Alexandria Ocasio-Cortez, and climate and housing activists. CJA's Policy Fellow Kari Fulton was one of the speakers at the press conference, where the bill was unveiled.
We need federal action for a Just Transition rooted in Energy Democracy, that transforms public housing to healthy community-owned cooperatives, that empowers residents, while enhancing our future. The GND for Public Housing Act forms a foundation to increase resiliency, livability, and efficiency for urban as well as rural communities. The bill advances pathways for localized economies, local control and self-determination, which are pillars of CJA's principles.
In the news: Bernie Sanders and AOC unveil a Green New Deal for public housing
CJA Frontline Delegation
In January 2019, a Climate Justice Alliance frontline delegation converged on Washington, DC, to share our vision for a Just Transition and the Green New Deal with members of Congress.
Feminist Green New Deal
Climate Justice Alliance is part of a coalition of women's rights and climate justice organizations, that came together in early 2019 in recognition that feminist analysis must be part of this discourse. In a conversation focused on envisioning a healthy planet and communities, these groups knew that gender equality was-and is-key.

Frontline Green New Deal (GND)+ Climate and Regenerative Economic Policy Summit
64 organizations came together at Cass Commons in Detroit, Michigan from July 18-19, 2019.
The People's Solutions Lens
for a Green New Deal
We are at a moment where the hope and promise of achieving a bold, transformative agenda to protect the climate seems possible. But while transition is inevitable, justice is not. Led by frontline communities and workers with lived experience of struggle against extractive, polluting industries, the environmental justice movement has been demanding protection of our health, our communities, and our environment for decades. Here are five straight-forward questions that can help you determine whether a Green New Deal is rooted in justice for workers, frontline communities, and the environment:
1Who tells the story?  Frontline communities and workers are impacted first and worst by the interlinked crises of climate change and the extractive, exploitative economy. We speak for ourselves, and hold the wisdom, vision, and organizing power to lead climate and economic solutions. Yet, often times, others claim to speak for us without necessarily representing our interests. As we often say, nothing about us without us is for us.
2Who makes the decisions?  The environmental justice movement defines environment as "where we live, work, play, and pray". Whether it's the shop floor or the neighborhood, those closest to the problems will inevitably know the most about what the solutions need to look like. For a Green New Deal – or any other climate or economic policy – to truly work for Indigenous Peoples, Black communities, immigrants and refugees of color, and working class communities, it must embody the practice of community self-determination.
3Who benefits, and how?  The climate crisis is ecological, but it has its roots in systemic inequity that is racial, gendered, and economic. To address these root causes, authentic climate and economic policy solutions must flip the existing dynamics around racial injustice, wealth extraction, and labor exploitation.
4What else will this impact? Sometimes environmental and climate policies or "solutions" can create new problems for other issues that we care about—e.g. workers' rights, housing, economic development, immigration, policing, mass incarceration, etc. Real solutions through a Green New Deal must work for ALL of our issues. No false solutions. No more sacrifice zones.
5How will this build or shift power? To address the climate crisis at scale, individual and collective solutions must put us in a better position to pursue subsequent solutions. Transformative solutions, then, must do more than accomplish individualized goals, specific policies, or select elections; they must shift the landscape of political, economic, and cultural power such that subsequent goals become more attainable. Green New Deal initiatives, above all, must be organizing tools that bring together a mass movement of people, workers, and communities. This is imperative to ensure the implementation phase is both inclusive and equitable.
This tool was inspired by and adapted, with permission, from the original People's Solutions Lens—a collaborative creation by It Takes Roots (a frontline formation composed of Climate Justice Alliance, Grassroots Global Justice Alliance, Indigenous Environmental Network, and Right to the City Alliance) and their Funder Support Circle. For more information on It Takes Roots, and to view the original People's Solutions Lens, which speaks to climate solutions, visit: http://ittakesroots.org/peoplesorientation/ or email: peoplessolutionslens@ittakesroots.org.
Community Engagement
Based on our understanding that impacted communities build power through organizing, and that visionary policy solutions develop and evolve in response to the demands from organized communities, frontline CJA member groups sponsored local climate policy events across the country. These are some of the local events that pushed for policy development and organizing that is inclusive and advances long-existing work towards climate, racial and economic justice from the local level up.  
Green New Deal in the News
Justice for all?  The Green New Deal may be falling short on its environmental justice promise, Grist, Feb 11, 2019
Green New Deal: Ocasio-Cortez unveils bold plan to fight climate change, The Guardian, February 7, 2019

The Green New Deal is here, and everyone has something to say about it, Grist, Feb 7, 2019
Something Old, Something New
The Green New Deal is touching up its (grass)roots, Grist,  Jan 9, 2019
What It Will Take to Build Union Support for the Green New Deal – Despite the AFL-CIO, In These Times, March 18, 2019
Fossil Fuel Industry, Corporate Lobbyists & Neoliberal Economists Push Carbon Pricing Schemes to Attack Green New Deal
Eyes on the Ties, by Derek Seidman on March 20, 2019
Building a Just Transition
Green New Deal Resolution
Read the Resolution that was introduced in February 2019 by Rep. Ocasio-Cortez and Sen. Markey.
Funders
To Win a Green New Deal, Fund Frontline Communities First!
Organizers
Are you ready to organize for a Just Transition in your community?
Support the Alliance
Help us direct money and resources
to frontline communities
Grow With Us
Be part of the community by signing
up to our mailing list